Foothills of the Andes | Space Wallpaper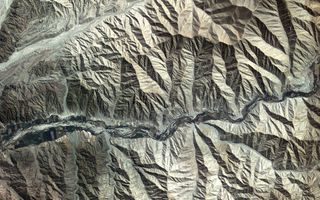 (Image credit: KARI/ESA)
The foothills of the Andes Mountains near the southern coast of Peru were captured by the Kompsat-2 satellite, as seen in this cool space wallpaper. The Andes stretch from Venezuela down South America's west coast to the top of Argentina. The mountain rage is the result of the Nazca and Antarctic tectonic plates moving under the South American plate—a geological process called subduction. This process is also responsible for the Andes range's volcanic activity. This image was released July 5, 2013.
Stay up to date on the latest science news by signing up for our Essentials newsletter.
Space.com is the premier source of space exploration, innovation and astronomy news, chronicling (and celebrating) humanity's ongoing expansion across the final frontier. We transport our visitors across the solar system and beyond through accessible, comprehensive coverage of the latest news and discoveries. For us, exploring space is as much about the journey as it is the destination.