Workaholic Dads Linked to Sons' Bad Behavior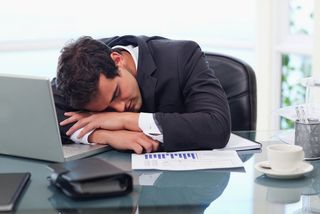 (Image credit: <a href='http://www.shutterstock.com/pic.mhtml?id=90150538&src=id'>Tired man working photo</a> via Shutterstock)
Fathers who spend long hours at work may find that their young sons have more behavioral problems, a new study suggests.
In the study, boys ages 5 to 10 whose fathers put in 55 or more hours weekly at their jobs exhibited a higher level of aggressive behavior, compared with boys whose dads worked fewer hours, the researchers said.
"This finding is important because there is limited prior research that has specifically examined fathers' work hours," said study researcher Jianghong Li, a senior researcher at the WZB Berlin Social Science Research Center in Berlin, Germany.
"The majority of previous research has studied mothers' work hours," Li said, adding that workplace policies have traditionally focused on allowing mothers' flexibility to balance their work and family responsibilities.
The study did not find that girls the same age were similarly affected by their fathers' work lives. [History's Top 12 Doting Dads]
In addition, no link was found between mothers' work hours and behavioral problems in either sons or daughters. But in Australia, women who work outside the home tend to work part time, so there were not enough working mothers in the study who clocked long hours to draw firm conclusions, the researchers said.
Between 16 and 20 percent of the Australian fathers in the study worked 55 or more hours a week.
The researchers announced their findings last week; the study appeared in the February issue of the Journal of Marriage and Family.
Boys more sensitive
To find out whether parents' work hours affect boys and girls differently during their middle childhood years, Li and four Australian researchers looked at children in Western Australia enrolled in a long-running trial, following them from birth to adulthood.
The researchers collected data from nearly 1,440 kids at age 5, about 1,400 of those youngsters at 8, and close to 1,360 of the kids at 10. At each point, one parent -- most often the mother -- completed a questionnaire about the child's behavior.
Although the researchers didn't find an effect on girls, Li noted the study looked at behavioral problems only in children ages 5 to 10. "We can't rule out the possibility that fathers' long work hours might also have a negative impact on other aspects of girls' development, at a later age," she said.
As for why sons may be more sensitive to a fathers' long work hours than daughters, Li explained that children may have more behavioral issues when they have inadequate time or interaction with the same gender parent.
Another reason might be that when dads spend more time at their jobs, their sons have less chance to play sports with them, or be involved in games and leisure activities that may help release a boy's high energy levels or aggressive behaviors.
It could also be that when fathers put in long work hours, mothers do not get the support and assistance they need from their husbands at home, Li said. As a result, mothers may feel overburdened and stressed, and the quality of their parenting might be reduced, which can negatively affect children, particularly sons.
Balancing work and family
Li said she suspects that American fathers' work hours may have an even stronger negative influence on their children. The family and social support network is generally weaker in the U.S. than in Australia, and a higher proportion of American mothers work outside the home, compared with Australian women, she said.
The culture of working long hours has crept into many jobs in the new economy, and the next policy frontier should be to enable equal opportunities for mothers and fathers to share parenting and work responsibilities, Li said.
"Fathers should be given incentives not to work long hours, but to have a greater share of parenting responsibilities," she said.
Follow LiveScience @livescience, Facebook & Google+. Original article on LiveScience.
Stay up to date on the latest science news by signing up for our Essentials newsletter.
Cari Nierenberg has been writing about health and wellness topics for online news outlets and print publications for more than two decades. Her work has been published by Live Science, The Washington Post, WebMD, Scientific American, among others. She has a Bachelor of Science degree in nutrition from Cornell University and a Master of Science degree in Nutrition and Communication from Boston University.