Feds Investigating Large Dolphin Die-Off on East Coast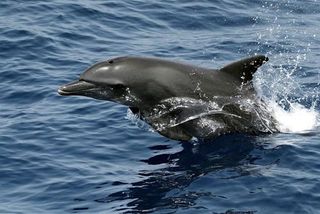 (Image credit: Chris Johnson – earthOCEAN)
An unusually large number of bottlenose dolphins are washing up on the shores of the Mid-Atlantic U.S. Coast, most of them already dead. Federal scientists have declared it an "unusual mortality event" and are investigating the cause. The number of dolphins stranded in July is more than seven times higher than average, scientists from the National Oceanic and Atmospheric Administration (NOAA) said in a conference call today (Aug. 8).
The strandings began at the beginning of July, and have accelerated in the past two weeks, said Teri Rowles, National Marine Mammal Stranding Coordinator with NOAA Fisheries.
Higher-than-average levels of dolphin strandings have been seen in New York, New Jersey, Delaware, Maryland and Virginia, scientists said. In July, a total of 89 dolphins were stranded in these areas. As of yesterday (Aug. 7), a total of 35 strandings have occurred already in the month of August.
Although the cause is not yet known, the primary suspect is morbillivirus, an infectious pathogen, Rowles said. One dead dolphin has tested positive for this virus, she added.
Only seven of the stranded dolphins have ended up on shore alive, but none of these survived, Rowles said. All of them died on the beach or were humanely euthanized because they were beyond the point of treatment, she said.
Animals can survive exposure and infection to morbillivirus, although it's not clear what percent do, Rowles said.
Morbillivirus was the culprit in the last large die-off of bottlenose dolphins, which occurred in 1987-1988. In that event, a total of 740 bottlenose dolphins died, according to NOAA figures. If another outbreak is indeed occurring now, there is likely nothing officials can do to stop it. The outbreak would have to end on its own.
Rowles said that tests are underway but will take a matter of weeks to complete. So far, there are no uniform lesions or other markings on dead animals to suggest a single unifying cause, she said.
Scientists stressed that citizens should not approach a dolphin if they see one on the beach, due to the chance that the mammals could harbor an infectious disease. They should not try to return the dolphin to the water either, scientists said, since stranding is a sign of a sick animal. Due to the animal's size, there's also a risk of injury if people try to move them to the sea.
To report a live or dead stranded dolphin in the Northeast U.S., people can call the local marine mammal stranding network at 1-866-755-6622.
Email Douglas Main or follow him on Twitter or Google+. Follow us @livescience, Facebook or Google+. Article originally on LiveScience.com.
Stay up to date on the latest science news by signing up for our Essentials newsletter.
Douglas Main loves the weird and wonderful world of science, digging into amazing Planet Earth discoveries and wacky animal findings (from marsupials mating themselves to death to zombie worms to tear-drinking butterflies) for Live Science. Follow Doug on Google+.