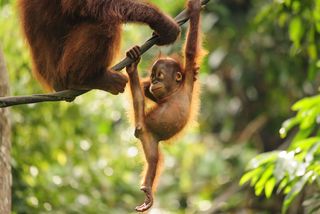 (Image credit: <a href="http://www.shutterstock.com/gallery-336766p1.html">WayneImage</a> | <a href="http://www.shutterstock.com">Shutterstock.com</a>)
A bizarre ancient ape whose gait has stumped researchers for decades walked on all fours and swung from the trees, new research suggests.
Oreopithecus bambolii, an ape that lived on an isolated island 7 million to 9 million years ago in what is now Tuscany and Sardinia, Italy, didn't have the pelvis or spine necessary for regular upright walking, the researchers said. Rather, the beast traversed Earth on all fours.
Their conclusion, detailed online July 23 in the Journal of Human Evolution, overturns an earlier hypothesis that the mysterious ape independently evolved bipedal, or two-legged, walking.
Ape oddity
When O. bambolii was alive, Italy formed a string of islands that were covered with swampy forests and teeming with crocodilians. The ape went extinct after a land bridge connected their island to other land, allowing large saber-toothed cats and other predators to stalk the island.
But the strange creature was a bit of a mystery: Scientists couldn't decide whether it was an ape or a monkey. (Apes have longer arms for swinging through trees, and monkeys often have tails that let them grab branches). O. bambolii had apelike arms, odd teeth with ridges more like a monkey's and feet that each had one backward-pointing toe, similar to those found on birds. [Image Gallery: Our Closest Human Ancestor]
"It's always been a kind of controversial beast. It's an ape that's not closely related to any living apes at all," said William Jungers, a physical anthropologist at Stony Brook University in New York who was not involved in the study.
In the 1990s, one group of researchers took a second look at O. bambolii's pelvis and spine, and concluded the animal had adapted to walk on two legs.
That was a bold claim.
Because no other mammals, aside from humans and their ancestors, routinely walked upright, anthropologists use bipedal adaptations to determine which fossil apes are in humans' direct evolutionary lineage, said study co-author Liza Shapiro, an anthropologist at the University of Texas at Austin.
If O. bambolii, which isn't considered a direct ancestor to humans, had independently evolved upright walking, that line of logic would have to be rethought.
"It would be really extraordinary to see an animal we don't think is closely related to us who got around this way," said William Sanders, a paleoanthropologist at the University of Michigan who was not involved in the study.
Second look
Shapiro and her colleague Gabrielle Russo, an anatomist at Northeast Ohio Medical University, decided to take a second look at O. bambolii.
The team carefully analyzed a fossilized Oreopithecus skeleton that was discovered by a French paleontologist in 1872.
Prior research suggested this specimen had a wider pelvis compared with apes' and a unique lower-back curvature called lordosis. Both of these features give humans better balance when walking upright.
But Shapiro's team looked at the skeleton from several perspectives and found no evidence of these changes: no lower-back curvature and no widening of the pelvis. It also lacked the distinctive widening of vertebrae at the base, which allows the human spine to stack like a pyramid and efficiently direct force into the pelvis.
The team concluded that O. bambolii wasn't a two-legged walker. Instead, it probably used its long, hanging arms and apelike spine to swing from the branches in a forest.
Earlier work had probably drawn different conclusions because the specimen's spine was crushed and distorted, Sanders said.
The new study should put the debate to rest, he said.
That doesn't mean the ancient ape never walked on two legs — just that it wasn't its dominant mode of transport.
"A chimpanzee with an armful of bananas can stand up on two legs and run quite a distance," Sanders told LiveScience. "But that's not a habitual bipedality."
Follow Tia Ghose on Twitter and Google+. Follow LiveScience @livescience, Facebook & Google+. Original article on LiveScience.com.
Stay up to date on the latest science news by signing up for our Essentials newsletter.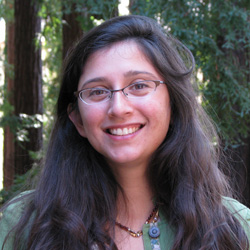 Tia is the managing editor and was previously a senior writer for Live Science. Her work has appeared in Scientific American, Wired.com and other outlets. She holds a master's degree in bioengineering from the University of Washington, a graduate certificate in science writing from UC Santa Cruz and a bachelor's degree in mechanical engineering from the University of Texas at Austin. Tia was part of a team at the Milwaukee Journal Sentinel that published the Empty Cradles series on preterm births, which won multiple awards, including the 2012 Casey Medal for Meritorious Journalism.