Tropical Storm Flossie Sets Sights on Hawaii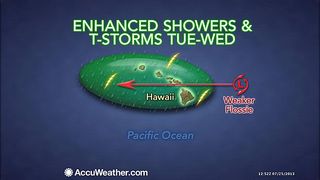 (Image credit: AccuWeather.com)
This article was provided by AccuWeather.com.
Tropical Storm Flossie will remain on a path to Hawaii through next week.
Flossie is more than a thousand miles away from land, but that distance will shrink through next week as the tropical storm remains on a west-northwest track toward Hawaii.
Over the warm waters of the eastern Pacific Ocean, Flossie took shape early Thursday morning.
The arrival of Flossie in Hawaii is anticipated around Monday night or Tuesday.
RELATED: Dorian to Approach Leeward Islands This Weekend Latest Statistics on Flossie AccuWeather.com Hurricane Center
The good news is that Flossie should not be a tropical storm at that time. After becoming a stronger tropical storm through Friday, Flossie is expected weaken to a tropical rainstorm by Tuesday.
Another bit of good news is that many locations are running below average in terms of rainfall over the last year so rainfall from this system will be beneficial, as long as it is not too heavy.
That does not mean that Flossie will pass unnoticed across Hawaii. Enhanced shower activity will spread from east to west across the islands Monday night through Wednesday, threatening to put a damper on outdoor activities.
AccuWeather.com meteorologists will be monitoring the possibility for localized downpours, while residents and visitors may even see rare flashes of lightning.
Flossie should also kick up the surf along the shores of Hawaii, creating hazards for beachgoers.
© AccuWeather.com. All rights reserved. More from AccuWeather.com.
Stay up to date on the latest science news by signing up for our Essentials newsletter.