District Loosens 'Intelligent Design' Rule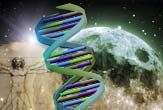 HARRISBURG, Pa. (AP) -- A school district that required science teachers to read a statement about alternatives to the theory of evolution decided Friday that teachers can choose not to read it, but their classes will still hear it.
Under the Dover Area School District's temporary exemption, administrators will read the statement when science teachers object to doing so. Students can be excused from having to listen if their parents object, according to a letter posted on the school district's Web site.
The district is believed to be the only one in the nation that required science teachers to mention "intelligent design'' -- a concept that holds the universe is so complex it must have been created by some higher power.
The curriculum language originally approved by the school board in October said biology students must be "made aware of gaps/problems in Darwin's theory and other theories of evolution, including but not limited to intelligent design.''
In November, however, the board said teachers would read a statement on intelligent design. Seven teachers had protested the required reading, saying it would violate the state's professional code for teachers.
Tom Scott, an attorney representing the Pennsylvania State Education Association, said the teachers' union was satisfied with the decision. He said teachers had objected because intelligent design "is not science.''
"Unfortunately, the school board and the superintendent can put anything they want to in front of the students, but we are not going to be their messenger,'' Scott said.
School officials declined to comment, citing a pending federal lawsuit filed by eight families over the science curriculum.
"The Dover faculty have no right to opt out of a legal directive,'' said Richard Thompson, president and chief counsel of the Thomas More Law Center in Ann Arbor, Mich., which is defending the school district. "Having said that, because there is pending litigation ... we are going to accommodate their request.''
Only one of the plaintiffs in the lawsuit, Tammy Kitzmiller, is the parent of a ninth-grade student who would be affected by the policy. Kitzmiller did not return a call seeking comment Friday, but in a deposition for the lawsuit, she said she didn't want her daughter to have to leave class.
"She shouldn't need to be singled out of the classroom,'' Kitzmiller said.
Civil-liberties groups allege intelligent design is merely a secular variation of creationism, the biblical-based view that regards God as the creator of life. They maintain the Dover district's curriculum mandate violates the constitutional separation of church and state.
Stay up to date on the latest science news by signing up for our Essentials newsletter.