Pebble Mine: A Threat to Alaska's Salmon, People and Economy (Op-Ed)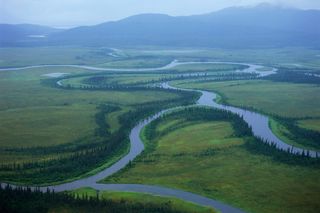 (Image credit: Robert Glenn Ketchum)
Taryn Kiekow is a senior policy analyst for NRDC's marine mammal protection project;she contributed this article to LiveScience's Expert Voices: Op-Ed & Insights.
Bristol Bay is located in the remote wildlands of southwest Alaska and supports the largest runs of wild salmon on the planet — over half of the world's supply of sockeye.
Every year, some 40 million salmon return to spawnin the pristine rivers and streams of the Bristol Bay watershed. But right now, the future of this little-known natural jewel is caught up in a frenzied political fight, part of what the Washington Post calls President Barack Obama's biggest environmental decision that "you've never heard of."
That decision is whether to protect Bristol Bay from a proposed mega-mine called Pebble Mine — a colossal, open-pit copper and gold mine that would be up to 2 miles (3.2 kilometers) long and 1,700 feet (518 meters) deep — a huge worry for the residents of Bristol Bay who overwhelmingly oppose the project.
Although the mining industry is lobbying hard to build it, West Coast senators, House members and local businesses have lined up in opposition. And it's also something the Obama administration could easily stop.
Salmon are the lifeblood of the region. Alaska Natives have lived off salmonfor thousands of years, and their welfare, health and cultural stability are intricately tied to these fish. Salmon also support an abundance of wildlife — from brown bears and eagles to whales and seals. [Fast-Evolving Fish Struggle to Spawn in Wild]
But the benefits of salmon to the region extend beyond sustenance: Salmon also form the economic backbone of the area.
An economic report released in April by researchers at the University of Alaska Institute of Social and Economic Research found that the Bristol Bay commercial salmon fishery is worth $1.5 billiona year, making it the most valuable wild-salmon fishery in the world. Not only do salmon sustain a prized commercial fishery, but they also sustain 14,000 jobs (according to the Environmental Protection Agency (EPA)'s draft watershed assessment on Bristol Bay), world-class sports fishing and an economy for Alaska Natives.
Pebble Mine could put all of this at risk. If built as planned at the headwaters of Bristol Bay, Pebble Mine would be the largest mine in North America, producing some 10 billion tons (9 billion metric tons) of toxic mining waste that would be stored in the rivers, streams and wildlands of Bristol Bay's high-quality salmon habitat. Even under the best conditions, it would be virtually impossible to keep the hazardous waste from leaking, putting salmon — which are highly sensitive to even the slightest increases in copper — in great jeopardy. And Bristol Bay provides challenging conditions: The extremely porous tundra sits in a seismically active area, and the ore, once exposed to air, will produce acid drainage.
The EPA re-released its draft Bristol Bay watershed assessment report in April, revealing the potential impacts of large-scale mining like the Pebble Mine on the watershed. The report's findings are shocking. Even in a best-case scenario — operating at the highest industry standards and experiencing no leaks or failures — Pebble Mine would destroy up to 90 miles (145 km) of stream, eliminate up to 4,800 acres (1,943 hectares) of wetlands, and dewater an additional 34 miles (55 km) of stream.
Even under routine operations, the construction and support of the mine would require a huge amount of infrastructure across land currently untouched by humans: from culverts and pipelines to power plants and tailings dams. Worse, a tailings dam failure could be "catastrophically damaging."
The EPA also found that large-scale mining could pose serious threats to wildlife and Alaska Native cultures.
It's no wonder that 85 percent of commercial fishermen in Bristol Bay, 81 percent of the Bristol Bay Native Corp.'s native shareholders and 80 percent of Bristol Bay residents oppose the Pebble Mine.
Right now, the people and wildlife of Bristol Bay are preparing for the annual return of the salmon. Commercial fishermen are readying boats and equipment. Alaska Natives are mending nets and smokehouses. Lodge owners and sportsmen are anticipating another lucrative tourist season. And hungry bears have awakened from hibernation.
The EPA is also preparing. The agency is accepting public comment on its draft watershed assessment. That draft has already undergone extensive public comment, including hearings in Alaska and peer review from a panel of 12 independent experts. Last year alone, the EPA received more than 233,000 public comments, over 90 percent of which urged the agency to protect Bristol Bay.
The EPA recently extended the current public comment period until June 30, in order to allow the public more time to weigh in. So far, the real winners of the extended comment period are pro-mining groups, who have recently generated a flurry of comments. According to a June 17, 2013 article in the Washington Post, the Competitive Enterprise Institute's (CEI) Resourceful Earth website has single-handedly flooded the docket with 99.25 percent of all anti-EPA comments. A conservative think tank, CEI is generally opposed to environmental regulations and has received millions of dollars over the years from the mining, oil and gas, and coal industries — as well as from groups associated with the Koch brothers, the article adds.
Bristol Bay is too important to let the Koch brothers and mining interests win this fight. The EPA can stop the mine under Section 404(c) of the Clean Water Act — something our government does sparingly and judiciously. If ever there were a case for using this power, Bristol Bay is the place. This is why NRDC asks everyone to join us and urge the Obama administration to protect the people, salmon, wildlife and businesses of Bristol Bay from the poisonous threats of the Pebble Mine. The future of one of the world's greatest natural treasures is at stake.
The views expressed are those of the author and do not necessarily reflect the views of the publisher. This article was originally published on Live Science.
Stay up to date on the latest science news by signing up for our Essentials newsletter.