Carbon Nanofiber Makes Smart Yarn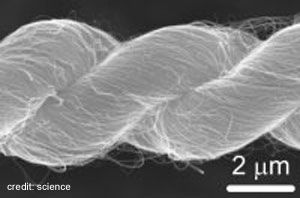 Science fiction writer Neal Stephenson wrote about arachnofiber uniforms in his 1992 novel Snow Crash. These bulletproof and lightweight uniforms were worn by the Deliverators, the world's best pizza delivery guys. Carbon nanofiber can now be spun like yarn to make an amazing variety of new inventions possible, including lightweight bulletproof uniforms.
Among the many possibilities:
Soft protective vests stronger than Kevlar
Bandages that can contract to put pressure on
Artificial muscles powered by electricity - much lighter than current hydraulics
Would make it easier to incorporate electronic sensors and actuators into clothing.
All of these possible applications derive from the remarkable properties of carbon nanotubes; the ability to conduct both heat and electricity along with the extreme toughness of the fiber.
The researchers created the yarn by growing a mat of fibres on a substrate, called a nanotube forest. A sharp, pointed instrument then pulled at the fibres along the plane of the substrate.
If you are interested in how technology is producing science-fictional clothing, take a look at Scentsory Chameleon Bodysuit: Biometric Fashion. Bulletproof vests and body armor tends to be rigid - but not Liquid Body Armor in Two Flavors - Shear Thickening and Magnetorheological.
(This Science Fiction in the News story used with permission from Technovelgy.com - where science meets fiction.)
Stay up to date on the latest science news by signing up for our Essentials newsletter.
Bill Christensen catalogues the inventions, technology and ideas of science fiction writers at his website, Technovelgy. He is a contributor to Live Science.