Nail Salon Lamps Don't Raise Skin Cancer Risk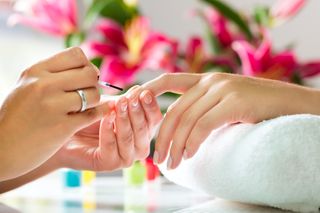 (Image credit: <a href='http://www.shutterstock.com/pic.mhtml?id=113068372'>Manicure photo</a> via Shutterstock)
While the risk of developing skin cancer is known to be linked with exposure to ultraviolet light, it's been less clear whether the UV lamps used in nail salons might raise the risk of skin cancer. Now, a new study suggests these lamps don't increase skin cancer risk.
In the study, researchers looked at three commonly used UV nail lamps. They measured the light, in terms of its likely carcinogenic effects, and calculated the "UV dose" that a user would receive during a 10-minute nail-drying session.
Not all ultraviolet lamps are the same — for example, people with the skin condition psoriasis may be treated with lamps, and studies have shown these "narrowband UVB" treatments raise the risk of skin cancer only minimally, compared with the more damaging rays of tanning salon lamps.
The new study showed that between 13,000 and 40,000 nail-drying sessions would be needed before a person would receive the same UV dose as a person with psoriasis who received light treatments for their condition, according to researchers Dr. Alina Markova, of the Massachusetts General Hospital in Boston, and Dr. Martin Weinstock, of Brown University.
That's about 250 years of weekly manicures.
The findings mean that using these UV lamps "does not produce a clinically signi?cant increased risk of developing skin cancer," the researchers wrote.
Two previous studies have looked at this question, the researchers said. In a 2009 report, researchers concluded that UV nail lamps were a risk factor in the cases of two women who developed skin cancer known as squamous cell carcinomas on the backs of their hands. In the other study, a laboratory hired by the nail salon industry tested many UV nail lamps and concluded UV light levels emitted were low and safe.
However, researchers of the new study noted that report about the two women was anecdotal, and did not include measurements of the UV light from the lamps. They also said the methods used in the industry-funded study were inappropriate.
"Dermatologists and primary-care physicians may reassure patients regarding the safety of these devices," the researchers wrote in their article, published Thursday (Dec. 6) in the Journal of Investigative Dermatology.
Pass it on: Lamps used in nail salons don't increase the risk of skin cancer.
FollowMyHealthNewsDaily on Twitter @MyHealth_MHND. We're also on Facebook & Google+.
Stay up to date on the latest science news by signing up for our Essentials newsletter.
Karen came to LiveScience in 2010, after writing for Discover and Popular Mechanics magazines, and working as a correspondent for the Journal of the National Cancer Institute. She holds an M.S. degree in science and medical journalism from Boston University, as well as an M.S. in cellular biology from Northeastern Illinois University. Prior to becoming a journalist, Karen taught science at Adlai E. Stevenson High School, in Lincolnshire, Ill. for eight years.