Would NYC's Ban on Big Sodas Reduce Obesity? Experts Weigh In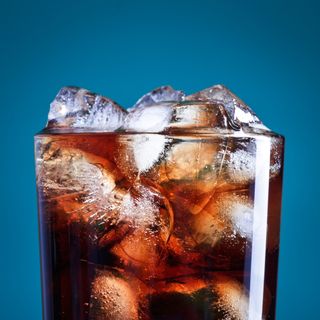 (Image credit: <a href='http://www.shutterstock.com/pic.mhtml?id=72682996'>Soda photo</a> via Shutterstock)
A proposal to ban the sale of large, sugar-sweetened drinks in some New York City establishments is an important first step in combating the obesity epidemic but is not a solution on its own, experts say.
The proposal raises awareness about the problem of large food portions and supports a culture that consumes less, said Simone French, associate director of the University of Minnesota Obesity Prevention Center.
For instance, since the Coca-Cola Co. began selling its products, bottles often consumed as a single serving have increased in size from 6.5 ounces to 20 ounces, French said. "We need to have a cultural shift back to more modest, reasonable, appropriate portion sizes if we want to help reduce the obesity epidemic," she said.
However, others say the proposed ban, which the city Board of Health is expected to consider over the summer and would not be adopted before next year, might be largely a symbolic move with no real effect on waistlines.
The proposal "sends a really important message" that soda is bad, particularly in large quantities, said registered dietitian Katherine Tallmadge, the author of "Diet Simple" (LifeLine Press, 2011). But people could still consume large amounts of high-calorie beverages by buying them from places where they are not banned, Tallmadge said.
Soda and other sugar-sweetened, high-calorie beverages are known to be important contributors to obesity because people tend to over-consume calories when they come in liquid form, French said. The proposal would ban the sale of some sugar-sweetened drinks — including soda, coffee, tea, and fruit drinks — in servings larger than 16 ounces at New York City food service outlets such as restaurants, movie theaters, delis and food carts.
The ban would not affect grocery stores or vending machines, and it would not apply to certain beverages, such as fruit juices that contain more than 70 percent juice, and drinks such as lattes and milk shakes that contain more than 51 percent milk.
Experts agreed the general lack of physical activity in American culture and high amounts of snacking play important roles in the obesity epidemic and wouldn't be negated by this ban.
Large portions, large waistlines
Presented with large portions, people are not eating "just enough" to meet their bodies' needs, and perhaps saving the rest for later, French said. Instead they are consuming the entire portion as a single serving, even if it's 20 ounces of soda in a bottle, French said.
The ban would make it harder for people to consume so much of a sugar-sweetened beverage because they would have to actively order two or more smaller containers, French said. "By having to do that, it will make you more aware of how much you are consuming," she said.
And by getting rid of "bargain-sized" beverages, the ban would do away with the financial motivation people may have had for buying them.
"It's not surprising that people were purchasing these larger sizes because of the quantity discounting," said Lisa Powell, an economics professor at the University of Chicago's Institute for Health Research and Policy. The ban would take this option off the table, Powell said.
Reducing obesity
To the extent that the ban could reduce calorie consumption, a reduction in people's weight could be expected, Powell said.
Some studies have shown that outright bans of soda and junk food in schools did not significantly reduce the weight of students. But these bans focused on only one source of sweet drinks (those sold in schools). The proposed ban is broader and thus could have a larger impact on the population, Powell said.
But we will have to wait and see if the ban has an impact on obesity, Powell said.
The ban ultimately may help, but "we need more than just this," French said. "Obesity didn't happen just because of soft drinks, it happens because of a lot of things."
Pass it on: Experts are divided on how effective New York City's proposed ban on sugar-sweetened beverages would be in combating obesity.
Follow MyHealthNewsDaily staff writer Rachael Rettner on Twitter @RachaelRettner. Find us on Facebook.
Stay up to date on the latest science news by signing up for our Essentials newsletter.
Rachael is a Live Science contributor, and was a former channel editor and senior writer for Live Science between 2010 and 2022. She has a master's degree in journalism from New York University's Science, Health and Environmental Reporting Program. She also holds a B.S. in molecular biology and an M.S. in biology from the University of California, San Diego. Her work has appeared in Scienceline, The Washington Post and Scientific American.