Some Foods May Boost Your Brain Power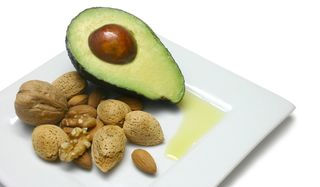 (Image credit: Tomboy2290 | Dreamstime)
"One lives in the hope of becoming a memory." That's a nice quote from the poet Antonio Porchia, but what happens when we start forgetting? As we get older, many people find that their memories aren't as reliable as they once were – and I'm no exception.
Recently, I've found that I need to make more notes and setup more reminders on my computer and phone than I used to. It happens to everyone, right? But, what if there was something we could do to stop or slow memory loss?
As you might have guessed, the answer doesn't come in a pill. In order for your brain to work properly and recall memories, it must be fueled with the right nutrients. A 1997 Journal of the American Geriatric Society study found that patients who had higher blood levels of vitamin C and beta carotene scored better on tests of memory, vocabulary, recall and recognition. Both vitamins work as antioxidants, which can prevent cell damage within the brain (and the rest of the body).
Omega-3 fatty acids may improve memory and learning in older adults with minor cognitive impairments, according to a 2010 study published in the Journal of the Alzheimer's Association. Omega-3 fatty acids can be taken in supplement form, but they are also found in certain foods.
Although there are specific nutrients that have been shown to have an effect on memory function, it's important to remember that these nutrients don't work in isolation. That's why it's always better to get as much nutrition from food as possible.
Here are a few tips for getting more of these brain-boosting nutrients into your diet (in their natural form):
Guacamole night: Guacamole is a fun party food, but it doesn't have to be reserved for special occasions. Make some guacamole and chips for your family to nosh on while dinner is still in the oven. Avocados are rich in vitamin C, which will help you remember the fond memories you're creating.
Add grated carrots to your salads: Carrots are so quick and easy to grate, and they're also very rich in beta carotene (hence the name).
Eat more fish: Salmon, tuna and halibut all have high levels of omega-3 fatty acids. Try to incorporate one of these into your dinner plans at least once a week.
Snack on walnuts: Walnuts are rich in omega-3 fatty acids, so they are a good alternative if you don't like fish. Flaxseed is another non-fishy source of this essential fat.
Replace starchy white potatoes with beta-carotene-rich sweet potatoes: You can bake them, mash them, or make them into fries – just as you would with the white potato.
Healthy Bites appears on MyHealthNewsDaily on Wednesdays. Deborah Herlax Enos is a certified nutritionist and a health coach and weight loss expert in the Seattle area with more than 20 years of experience. Read more tips on her blog, Health in a Hurry!
Stay up to date on the latest science news by signing up for our Essentials newsletter.
Deborah Enos, CN, also known as "The One-Minute Wellness Coach," is The Health Coach for busy, working people. She pares her good-health messages down to simple and fast bullet points that can impact lives in 60 seconds or less. Deborah serves as a board member of the American Heart Association. In addition to writing the Healthy Bites column for Live Science, Deborah is a regular on FOX Business News, NBC and ABC, and is a frequent contributor to The Costco Connection, Parade Magazine, Self Magazine, Good Housekeeping and USA Today. Deborah is also The One Minute Wellness Coach for The Doctors TV Show.