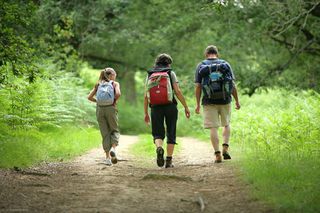 (Image credit: dreamstime)
Dads don't typically go ballistic when they find out their teenage son or daughter is having sex. Instead, fathers respond by becoming more involved in their childrens' lives, according to a new study.
The study contradicts previous research that found parents react with anger and detachment when they discover that their teenage sons or daughters are sexually active — a reaction that then can cause teens to take more sexual risks.
"Youth who engaged more regularly in activities with their families and had fathers who were more knowledgeable about their friends and activities thereafter reported lower average levels of sexual risk behaviors in comparison to their peers with less engaged parents," writes Boston College's Rebekah Levine Coley, who headed up the research.
The study, published in the May/June issue of the journal Child Development, examined "risky sexual behaviors" and parenting methods among 3,206 teenagers ages 13-18 for four years. The data was gathered via annual questionnaires and assessed how youth and their families changed over time.
Risky sexual behavior was defined as the early initiation of sexual activity, frequent sexual intercourse, multiple partners, and inconsistent use of reliable birth control.
Teens with involved dads reported 7 percent less sexual activity than average. However, the researchers didn't find that a father's increased knowledge did anything to curb his child's actions.
Overall, mothers still knew more about their kids' lives, and the study found that they didn't react strongly one way or another to their children's sexual behavior. However, this could be because mothers are already informed about their kids, and dads' increased awareness is simply a matter of rising to mothers' levels.
"Fathers also, on average, declined more in their parental knowledge over time than did mothers, though this difference was very small," Coley said. The study also found that fathers didn't react differently to sons or daughters. But girls responded more strongly to their fathers' involvement and family activities than did boys, and this home environment was more protective for girls.
Family activities were the most important protective factor against teen sex — teens who ate dinner with their families and engaged in other types of family activities on a regular basis had lower sexual risk behaviors than average. Interestingly, households with higher incomes had lower average levels of regular family activities.
Family activity level — and overall parental involvement — was low for kids living with step-parents as well.
"Youth who lived with step-parents or who resided for some portion of the study time in a single-parent household showed notably higher average levels of sexual risk behaviors than did their peers in stable and biological-parent families," writes Coley.
"These results highlight the benefits of stable biological-parent families, but also suggest that the quality of parenting is important above and beyond the effects of family structure."
Sally Law has written about health and sexuality for the Cleveland Clinic, and has appeared regularly as a guest host on Sirius Radio. Her column, The Science of Sex, appears weekly on Live Science.
Stay up to date on the latest science news by signing up for our Essentials newsletter.