Recipe for Healthy Kids: Regular Family Meals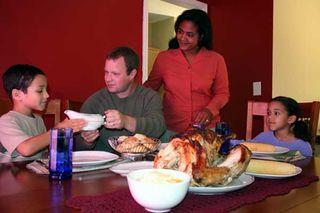 (Image credit: Dreamstime)
Dr. Christina Scirica, a pediatric pulmonologist at Massachusetts General Hospital, makes a point to eat dinner with her husband and two young children at least five nights a week.
The family meals make it easy to ensure everyone is getting the nutrients they need , Scirica said. She works part time now so it's easier to have family dinners, but when she was working full time she and her husband got creative.
"Having a situation where you can all be home all seven nights of a week is hard," Scirica told MyHealthNewsDaily. "Any time that works in our week works, too. Sometimes we did breakfast together. It's nice that it's also a big source of calories, so the kids can learn good eating habits."
Scirica is not the only one who thinks shared meals are smart for kids' nutrition research shows that shared meals are important for promoting good health in children.
Kids who eat at least three meals a week with their families are 12 percent less likely to be overweight than kids who eat with their families once a week or not at all, according to a new review of studies from researchers at the University of Illinois, Urbana-Champaign.
And kids who eat often with their families are also 30 percent less likely to regularly eat unhealthy foods and 24 percent more likely to eat healthy foods than kids who don't often share meals with their families, according to the study, published today (May 2) in the journal Pediatrics.
The analysis, which included 182,836 children ages 2 to 17, also showed that kids who ate three or more meals a week with their families were 35 percent less likely to have an eating disorder (including anorexia, bingeing and purging) than kids who don't eat regularly with their families.
When Scirica is able to gather her family for dinner, she makes sure to let her kids, ages 5 and 6, help her cook and lets them snack on the prepped-to-cook vegetables throughout the process. They cook fish once a week and red meat once or twice every two weeks and have a vegetable at every meal.
But beyond nutritional reasons, family meals help everyone to connect and share stories about the day, Scirica said.
"It's one of the things that we just have to make it work," she said. "As the kids get older it may be harder to sit down for dinner so many nights a week, but it'll still be a priority."
Pass it on: Regular family meals decrease kids' risk of overweight and eating disorders, and promote healthy eating habits.
Follow MyHealthNewsDaily staff writer Amanda Chan on Twitter @AmandaLChan.
Stay up to date on the latest science news by signing up for our Essentials newsletter.
Amanda Chan was a staff writer for Live Science Health. She holds a bachelor's degree in journalism and mass communication from the Walter Cronkite School of Journalism and Mass Communication at Arizona State University, and a master's degree in journalism from Columbia University.