Tai Chi Helps Elderly Adults Fight Depression, Study Finds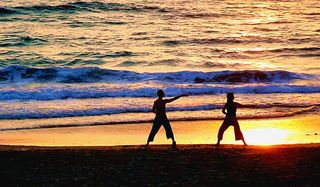 (Image credit: Rayko Swensson | Stock Xchng)
Adding the ancient Chinese martial art tai chi to an antidepressant drug regimen effectively decreases symptoms of depression in elderly people, a new study suggests.
After 10 weeks, 65 percent of elderly people entered remission for depression after taking an antidepressant and practicing tai chi , compared with 51 percent of people who entered remission after taking an antidepressant and attending weekly health education courses, the researchers said.
Only a fraction of older adults usually see their depressive symptoms improve with just one antidepressant medication. Doctors often have to prescribe more medications, switch medications or add psychotherapy to improve results , said study researcher Dr. Helen Lavretsky, professor-in-residence of psychiatry at University of California, Los Angeles.
"But if we do an exercise, it has additional benefits instead of adding another medication or switching to another drug or doing nothing," Lavretsky told MyHealthNewsDaily. "Exercise has this other benefit that improves cognition and physical health."
Tai chi also helps people to meditate and improve their balance, she said.
The study was published online March 16 in the American Journal of Geriatric Psychiatry.
Tai chi and health education
Lavretsky and her colleagues had 112 adults ages 60 and older take the antidepressant escitalopram for about four weeks. Only 27 percent showed dramatic improvement by the end of the month, the study showed.
Next, the other 73 percent of the adults were assigned to take either a two-hour weekly health education course, where they socialized with other adults and learned more about depression, or do two hours of tai chi a week for 10 weeks, according to the study. Everyone was tested at the beginning of the study and four months later for several factors, including: depression, anxiety, resilience (how easily a person can avoid being affected by depression triggers), quality of life, immune system inflammation and mental abilities.
Researchers found that 94 percent of people who did the tai chi saw their depressive symptoms greatly improve, and 65 percent had entered complete remission from depression.
Meanwhile, 77 percent of people who took the health education course saw their depressive symptoms greatly improve, and 51 percent achieved complete remission, according to the study.
Supplemental help
Older adults who don't want to take multiple pills every day should consider tai chi as a supplement for managing their depressive symptoms, Lavretsky said.
Tai chi can be taught and done at home, so that when people feel symptoms of depression coming on, they can be proactive in warding those symptoms off, she said.
And even though more people who did the tai chi exercises had reduced depression symptoms than the people who took the health education courses, those who took the courses still experienced a significant improvement in their depression symptoms, Lavretsky said.
"They are able to bond and connect with their peers, so that is also a social activity," she said. "Even if you do that, it can improve depressive symptoms."
Pass it on: Tai chi can help reduce symptoms of depression in older adults.
Follow MyHealthNewsDaily staff writer Amanda Chan on Twitter @AmandaLChan.
Stay up to date on the latest science news by signing up for our Essentials newsletter.
Amanda Chan was a staff writer for Live Science Health. She holds a bachelor's degree in journalism and mass communication from the Walter Cronkite School of Journalism and Mass Communication at Arizona State University, and a master's degree in journalism from Columbia University.