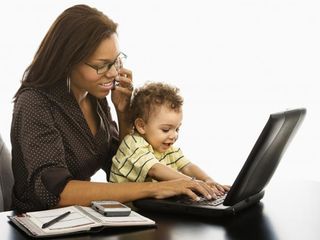 (Image credit: Stockxpert)
Children whose mothers work continuously over their lifetime are more likely to have a higher body mass index (BMI) than those whose moms work less, according to a new study, but they're not necessarily worse off in terms of their overall health.
Children of average height gained an extra pound, beyond what growing kids typically gain, for every five months their moms worked, the study showed. The effect was cumulative — the longer the mother worked, the more weight the child gained.
"Previous studies have looked at the relationship between weekly work hours and children's BMI ," said study researcher Taryn Morrissey, an assistant professor at American University. "Here, we went a step further and looked at the total number of years mothers were employed in order to measure the cumulative effects of employment."
But most of these children faced no higher risk of being obese, or were any less healthy than their peers, the study showed.
"Your kid can have a higher BMI and still be within the normal, acceptable range," Morrissey told MyHealthNewsDaily. In fact, only among the oldest children in the study — who were sixth graders — did the researchers see substantially higher BMIs and a greater likelihood of obesity. This is possibly because older children generally have more independence and less adult supervision over their time use and food choices , the researchers said.
The researchers studied 990 children in the third, fifth and sixth grades across the country.
Overall, the study shows that there are no significant detrimental effects when mothers work outside the home, said Dr. Wen-Jul Han, who researches maternal employment and childhood development at Columbia University in New York and was not involved with the study.
"I think this actually sends a reassuring message to mothers who work full time," Han said. "Even though the data shows that their BMI might increase, which seems bad, it actually shows that the kids are not at a significantly disadvantaged position."
"Your kid is not doomed to become obese the moment you leave the house or leave them with a babysitter. Mothers shouldn't feel guilty about working," Han said.
The researchers also studied mothers who worked non-standard hours, such as the night shift, and found that it didn't significantly affect children's BMI . Children's physical activity, time spent unsupervised and time spent watching TV also didn't explain why the children's BMIs were likely to be higher when their mom was at work.
Morrissey said that the results of her study show only one of many factors involved in a child's weight and overall health .
"No study has ever shown a single factor as the smoking gun behind childhood obesity. Our study is no different," she said.
"However, it does open up new questions in terms of what else beyond maternal employment can influence a child's health. And what else we can do in terms of policy, after-school child care, and availability of fresh groceries in order to help working mothers maintain a healthy household."
This study will appear in the January/February issue of the journal Child Development.
Pass it on: Kids whose moms work during more of their lives may face an increased risk of gaining extra weight.
Follow MyHealthNewsDaily on Twitter @MyHealth_MHND.
Stay up to date on the latest science news by signing up for our Essentials newsletter.