Fewer Meds, Balance Exercises Key To Preventing Elderly Falls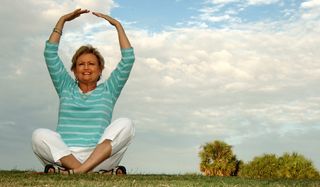 (Image credit: Katseyephoto | Dreamstime)
Doing exercise that improves strength and balance and eliminating unnecessary medications are two top recommendations for preventing falls among older people, according to the first updated geriatric guidelines released in nearly a decade.
Falls among older people are as serious a health problem as heart attacks and strokes , said Dr. Mary Tinetti, who worked on the new guidelines and directs the Yale Program on Aging.
The guidelines also stress that fall screening and prevention should be integrated into all health care for older adults. Doctors should ask if their older patients have recently fallen, or if they are unsteady walking, the researchers said. (In addition, check out our sister site Dignifyed for in-depth reviews of medical alert systems, which have fall detection capabilities.)
"People fall because of the cumulative effects of multiple problems," Tinetti, told Live Science. "I think we clarified specifically who should get fall risk assessment and management. I think the first (guidelines were) rather vague."
The first guidelines were issued in 2001. In 2010, a panel of researchers from the American and British Geriatrics Societies devised a new, multi-pronged approach to fall prevention. A summary of those guidelines are published today (Jan. 13) in the Journal of the American Geriatrics Society.
An underreported problem
About one-third of the 36 million Americans who are age 65 or older fall each year, said Deanna Gray-Miceli, assistant professor and director of gerontological nursing programs at Rutgers University in New Jersey. But most falls don't result in serious injuries, and thus go unreported, she said.
"We're seeing the tip of the iceberg, not the true incidence," said Gray-Miceli, whose research has focused on fall prevention in the elderly.
The new recommendations emphasize exercise that involves balance, gait and strength training, such as physical therapy or tai chi, a Chinese martial art incorporating gentle motions and stretching. Walking every day is also a valuable activity, the researchers said.
"We know that remaining physically active is an important piece of reducing your fall risk," said Dr. Sharon Brangman, a geriatrician in Syracuse, N.Y., and president of the American Geriatrics Society. "Tai chi might help with muscle and balance control. The challenge is convincing [older people] to do it it's often outside their normal experience."
Brangman and Gray-Miceli said perhaps the most important recommendation is to reduce medication use as much as possible, paying particular attention to drugs that affect the brain such as sleeping pills and antidepressants. But eliminating medications can be tricky.
Weighing options
"If depression is one of those illnesses that is under-treated," Brangman said, "it does pose a bit of a challenge, because that is also such a significant quality of life issue. But in treating them we may be increasing their risk for falls."
Other medications that can contribute to falls include those for bladder control, fluid retention and cardiovascular conditions, Brangman and Gray-Miceli said.
The updated guidelines also encourage:
Increased focus on raising low blood pressure and managing heart rate and rhythm abnormalities
Reducing fall risk factors around the home by adding grab bars in bathrooms or removing clutter off floors and around stairs.
Cataract surgery where necessary, but the researchers cautioned vision interventions should not be the only approach taken
Brangman said she tells her patients to avoid wearing heels, which is a common practice among women who came of age during a time when wearing high-heeled shoes was de rigueur.
"It's very hard, because you can't just go in and upend everything someone's been used to," she said. "So we talk about heels that are safer."
Follow MyHealthNewsDaily on Twitter @MyHealth_MHND.
Stay up to date on the latest science news by signing up for our Essentials newsletter.