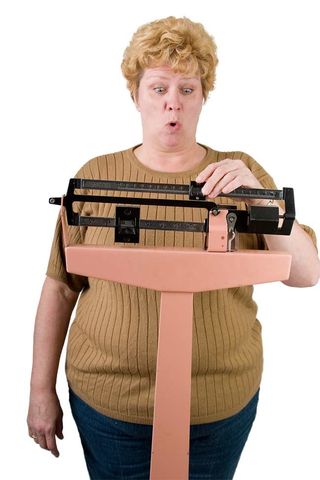 (Image credit: dreamstime.com)
Describe the perfect woman. Is she blonde, or brunette? Petite, or tall? Slender — or fat?
For a certain subset of the male population — referred to in the scientific community as "fat admirers" — overweight women are the ideal. And a recent study, published in The Journal of Sex Research, finds that not only do FAs prefer overweight women, but that they also find a wider range of body sizes attractive than other men do.
The study asked two groups of men — those who were scouted at FA events, and those who did not identify with the subculture — to rate black-and-white photographs of 10 female body types. Both groups were asked which figure they desired the most, as well as the largest and thinnest figures that they found attractive.
The FAs were most attracted to the photo of a woman with a body mass index of 29.24. BMIs are computed by dividing weight in kilograms by height in meters squared; according to the Centers for Disease Control and Prevention, a body mass index of 25 to 29.9 qualifies a person as overweight, while those who are obese have a BMI of 30 or higher. For example, a 5'6" woman at 155 pounds is overweight, and is obese at 190 pounds. (To find your BMI using metric measurements, use the CDC's calculator.
Furthermore, the study found that FAs considered a wider range of figures to be appealing, including those of two emaciated women (with BMIs lower than 15).
Viren Swami, a psychology professor at England's University of Westminster and a lead researcher on the study, says that these findings suggest a rejection of the "sociocultural norms of attractiveness."
"Most [FAs] understand that their ideals of beauty are not 'mainstream,' but I don't think it's really perceived as something rebellious," Swami told LiveScience. "'Natural' is a word that often crept up in my conversations with FAs, i.e., they viewed their preferences as normal; it was just that mainstream society didn't 'accept' those ideals."
The control group, meanwhile, supported those conventional ideals, finding the figure with a BMI of 18.45 — which, technically, qualifies as underweight — the most attractive. They also rated the overweight and obese images more negatively overall than the FAs did.
FAs might be fighting stereotypes, but do they concern themselves with the weight-related health issues that come along with that resistance? "For some, [health] didn't matter," Swami says. "Others are more strongly involved with fat acceptance movements, and are trying to redefine what is meant by 'healthy.'" Obesity as healthy? Fat chance.
Video – Is the Fat Virus for Real?
Sex Quiz
Sally Law has written about health and sexuality for the Cleveland Clinic, and has appeared regularly as a guest host on Sirius Radio. Her column, The Science of Sex, appears weekly on LiveScience.
Stay up to date on the latest science news by signing up for our Essentials newsletter.