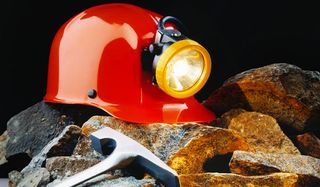 (Image credit: 350jb | Dreamstime)
Aside from collapses and other hazards that all miners face, coal miners also have to worry about developing black lung, a deadly but preventable disease caused by the inhalation of coal dust.
In severe cases, black lung is characterized by inflammation and scarring of the lungs, which often permanently damages the lungs and may lead to shortness of breath, chest pain, a persistent cough and abnormal breathing patterns, according to the Mine Safety and Health Administration.
Also known as coal workers' pneumoconiosis, black lung is a very serious and common threat to miners, despite the passing of safety standards that require all miners working underground to wear protective masks. In fact, the prevalence of black lung cases has more than doubled since 1995, according to the Centers for Disease and Control and Prevention.
The disease accounts for many more deaths than mine accidents such as explosions and cave-ins. More than 10,000 miners have died from black lung during the past decade, compared with fewer than 400 who have died in mine accidents, according to the National Institute for Occupational Safety and Health.
According to the CDC, black lung among coal miners is caused by several job-related factors. These include inadequate coal mine dust regulations and a lack of enforcement of mandated policies. The CDC also cites lagging disease prevention measures that aren't keeping up with changes in mining practices as the demand for coal continues to grow.
For example, miners are being exposed to more amounts of crystalline silica (which comes from rocks) and coal dust during drilling as a result of increasingly productive mining machinery, according to MSHA. Wearing breathing filters or face masks may not be enough to combat these higher levels of dust miners may have to wear individual monitors that alert them when they have reached their dust inhalation limit for the day.
Longer work days are also a contributing factor to the rise in black lung, as well as mine workers missing opportunities to be screened for early signs of the disease and taking action to reduce dust exposure, such as always wearing protective facial masks, according to the CDC.
MSHA notes that the most recent figures gathered by the Coal Workers' Health Surveillance Programs shows that new cases of black lung include progressive massive fibrosis (PMF), the most disabling and potentially fatal form of the disease, rising among younger miners. In severe cases, the lungs become too damaged to function properly, causing disability or premature death , according to the CDC.
According to the American Lung Association, occupational lung diseases are the number one cause of work-related illness. Smoking can further increase both the risk and severity of black lung.
Got a question? Email it to Life's Little Mysteries and we'll try to answer it. Due to the volume of questions, we unfortunately can't reply individually, but we will publish answers to the most intriguing questions, so check back soon.
Stay up to date on the latest science news by signing up for our Essentials newsletter.
Remy Melina was a staff writer for Live Science from 2010 to 2012. She holds a bachelor's degree in Communication from Hofstra University where she graduated with honors.