Poison Injuries Spike in Summer — Keep Kids Safe: Op-Ed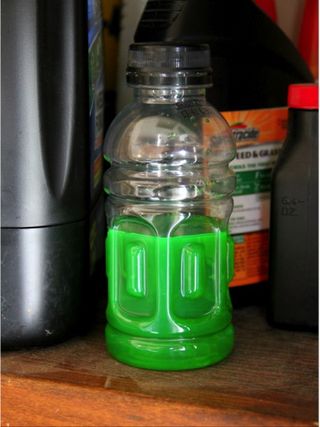 (Image credit: Nationwide Children's Hospital)
Heath Jolliff is associate medical director of the Central Ohio Poison Center at Nationwide Children's Hospital. He contributed this article to LiveScience's Expert Voices: Op-Ed & Insights.
Spring and summer mean more chances for fun, but this is also the time of year when children face the highest risk of danger from certain chemicals. During the spring and summer months, hydrocarbon toxins will injure nearly 30 children in the United States each day.
Harmful hydrocarbons include chemicals found in things like gasoline, lighter fluid, furniture polish, kerosene, lamp oil, mineral oil and some cleaning solvents. With Memorial Day and Fourth of July picnics, more children are exposed to those toxins, and that could lead to serious health problems. [12 Steps to Prevent Accidental Poisoning]
Dangerously, curious toddlers try to swallow those chemicals. The children can then choke, inhaling the toxins into their lungs.
My colleagues and I at the Central Ohio Poison Center and the Center for Injury Research and Policy, both at Nationwide Children's Hospital, recently released a study in the journal Clinical Pediatricsthat shows hydrocarbon injuries are most likely to occur during the summer months. The injuries are associated with activities such as mowing lawns, using Tiki torches and utilizing lighter fluid for outdoor cooking.
During the 10-year study period, exposure to hydrocarbons in children under age 5 led to 66,000 calls to regional poison centers and more than 40,000 emergency-department visits. We also found that more than 60 percent of the children injured were male, and most were between the ages 1 and 2.
What surprised us is that gasoline was the number one exposure that we saw, and when we looked to see why that occurred, we learned the exposure occurred when parents were refueling their cars at a gas station: Children would be outside the vehicles, pull the gas-pump hose out of the car and then splash themselves with gasoline.
The results of the study demonstrate a greater need to educate parents in order to prevent such injuries. The changing seasons should remind everyone to ensure that these types of hydrocarbons are stored in their original containers and that they are out of the reach of young children.
The good news is that overall, the number of injuries due to exposure to hydrocarbons declined significantly between 2000 and 2009 due to changes in packaging laws and public awareness. In 2002, the Consumer Product Safety Commission passed regulations mandating that harmful hydrocarbons be sold in child-resistant packaging. Those regulations helped drive down accidents dramatically, but they are only effective if parents leave those items in their original packaging. Many people put them into another bottle or container — like a juice or soda container ­— that does not have child-resistant packaging. [5 Experts Answer: What Are the Most Dangerous Items in a Home?]
Oftentimes, kids mistake these harmful chemicals for another product that they normally see a parent or themselves drinking, and they try to ingest the toxic product. These products, such as wood polish, tend to evaporate, but many don't stay oily for long — for instance, as motor oil would. Part of the danger comes when these things evaporate.
When you see the impact of the poison on an X-ray, it looks similar to pneumonia — children will even develop fevers. They will cough, and it may look like an infection, but it's not.
These ailments can require a very prolonged treatment in the hospital; I have personally taken care of kids who have been in the hospital for over a month from this. Unfortunately, some children still die. Hydrocarbons are the fourth leading cause of poisoning death in children.
Here are some safety tips parents should keep in mind:
Store products properly and high up, where children can't see or reach them.
Keep products in their original, child-resistant packaging or containers.
Supervise children when toxic hydrocarbons are being used in and around the home.
Keep cabinets with products containing hydrocarbons locked.
Keep children safely in the vehicle during fuel fill-ups at gas stations.
To report a poisoning or get poison-prevention information, call your local poison center toll-free: (800) 222-1222.
The views expressed are those of the author and do not necessarily reflect the views of the publisher. This article was originally published on LiveScience.com.
Stay up to date on the latest science news by signing up for our Essentials newsletter.