Expeditions to Earth's Hostile Corners in 2013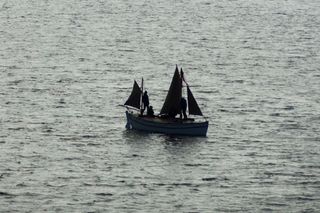 (Image credit: Shackleton Epic)
Stratospheric skydiver Felix Baumgartner's feet may have already arrived safely on the ground, but adrenaline junkies need not despair. There'll be plenty of adventures to keep an eye on in 2013.
Explorers will trek to the northern and southern ends of the Earth, sailing around its middle, enduring blistering heat and bundling up against frostbite-inducing temperatures to secure their places in the record books. These adventurers will see, and share with the world, some of the planet's most awe-inspiring locales, advocate for protecting some of the Earth's most pristine environments and collect invaluable data for cutting-edge (literally, in some cases) research programs.
Antarctic adventures
In the Antarctic, a team of Brits and Australians plans to recreate Sir Ernest Shackleton's harrowing trip from Elephant Island to South Georgia in an open-air lifeboat. Once the team reaches South Georgia, just as Sir Shackleton's 1916 expedition did, they'll trek across the island's rugged, mountainous terrain to reach the former whaling station at Stromness. That's where Shackleton sought help to rescue his stranded crew.
In another upcoming austral feat, Sir Ranulph Fiennes will lead a team on the first-ever journey by foot across Antarctica, in the dead of the Southern Hemisphere's winter. From mid-March to mid-September, his "Ice Team" will trek 2,000 miles (3,200 km), encountering temperatures as low as minus 130 degrees Fahrenheit (minus 90 degrees Celsius). Fiennes, no stranger to the price of frostbite (he has lost the fingers on his left hand), was the first person to cross the continent on foot, and he did it without support from additional supplies or equipment, which he did during relatively balmier months.
Elsewhere in the southernmost continent, three teams of researchers have been working to drill through miles of Antarctic ice in search of ancient lakes. These might contain extreme microorganisms that have been buried under thick layers of ice for thousands to millions of years.
A British team attempting to drill into one such buried body of water, Lake Ellsworth, recently put their mission on hold until next year due to technical difficulties and dwindling supplies. But an American team is still drilling toward Lake Whillans under the West Antarctic Ice Sheet's Whillans Ice Stream. A Russian team that pierced Lake Vostok last year is also making progress in the search for extreme Antarctic life, though, so far, the only microbes they have identified are contaminants from their drilling apparatus.
Around the world
At the other end of the globe, British explorer Pen Hadow will try to become the first person to ski across the Arctic Ocean (from Russia to Canada) alone and without the help of additional supplies, machines, dogs or kites. He'll also help Arctic ice modelers by collecting as many as 50,000 pieces of data about sea-ice thickness and volume along the way.
Other explorers will tackle oceans that aren't quite as frigid. China has the world's 10th longest coastline, but, to date, the country doesn't hold any records in global circumnavigation. Professional Chinese sailor Guo Chuan set sail from Qingdao, China, in November in a 40-foot (12.2 m) sailboat to try to change that. He hopes to set a record by completing his round-the-world expedition in about 125 days. Stay tuned to see if he's successful.
Not all of the explorers in 2013 will face the wet or cold, though. A pair of horseback riders is currently in the middle of a 5,000-mile (8,000 km) journey down the length of Africa. They've made it to Uganda after riding for five years, and they'll begin the second half of their trip in Tanzania next month. Another international group of professional tree climbers plans to scale some of South Africa's oldest trees in an attempt to raise awareness about threats to the region's vulnerable ecosystems.
Follow OurAmazingPlanet for the latest in Earth science and exploration news on Twitter @OAPlanet. We're also on Facebook & Google+.
Stay up to date on the latest science news by signing up for our Essentials newsletter.