Japan Tsunami Touched All New Zealand Coastline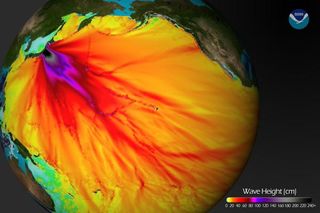 (Image credit: USGS.)
The tsunami waves that radiated out across the Pacific Ocean from the massive 9.0-magnitude earthquake that struck Japan last week lapped every coast of New Zealand, scientists in that country have said.
The biggest waves, with wave heights of about 5.2 feet (1.6 meters), were seen at the North Island city of Whitianga and at the Chatham Islands east of the mainland, BBC News reported.
The port city of Lyttelton, which was close to the epicenter of New Zealand's own 6.3-magnitude temblor that struck last month, recorded wave heights of 34 inches (86 centimeters) above normal.
The first waves of the tsunami , traversing the 5,000 miles (8,000 kilometers) between Japan and New Zealand, hit about 12 hours after quake.
Mount Maunganui, on the north coast of the North Island; Charleston, on the west coast of the South Island; and Timaru, on the east coast of the South Island, all recorded wave heights over 3 feet (1 meter).
Scott Base, a station in Antarctica operated by New Zealand, even recorded a wave height of 4 inches (10 cm), the BBC said. The seismic waves from the massive earthquake also reached the southernmost continent, jostling one of its huge, flowing glaciers .
At most of the gauges monitored around the country, the highest waves were not the first to hit. At Timaru, for example, the biggest wave did not occur until more than 40 hours after the first wave hit, scientists reported.
"It's important to understand that tsunami waves can continue for some time after the first few waves hit," Rob Bell, of the National Institute of Water and Atmospheric Research in New Zealand, told BBC News.
"We are still recording obvious wave heights at our sea-level gauges now, days after the earthquake, which are affecting currents in harbors and estuaries," Bell added.
Tsunami waves can continue to bounce around an ocean basin for days and can be amplified by coastal features, such as inlets, and the topography of the ocean floor. A particular ridge on the Pacific Ocean floor essentially funneled the tsunami's waves toward Crescent City, Calif. , for example.
Stay up to date on the latest science news by signing up for our Essentials newsletter.