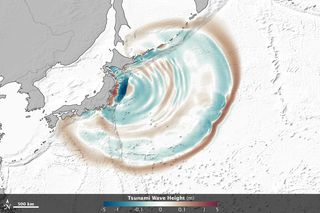 (Image credit: NASA/Jesse Allen, using data provided by Tony Song (NASA/JPL))
Tsunamis are a series of massive waves that ripple out from the earthquake, volcanic eruption, landslide or underwater detonation that caused them. These huge waves can travel thousands of miles across ocean basins. While out at sea, wave heights are small, but as a tsunami approaches shore, the rise of the continental slope means water levels are shallower, and the wave begins to narrow and become higher. Read below for the latest news on tsunamis and tsunami research.
Stay up to date on the latest science news by signing up for our Essentials newsletter.
Thank you for signing up to Live Science. You will receive a verification email shortly.
There was a problem. Please refresh the page and try again.