Polarizing Debate: Polar Bear Status Roils Alaska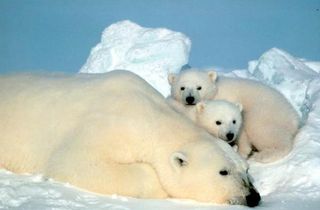 (Image credit: USFWS.)
This Sunday (Feb. 27) is International Polar Bear Day, and come this weekend, zoos around the United States will be celebrating the iconic Arctic species with special events and activities.
However, in the one place in the United States where polar bears actually live in the wild the state of Alaska the bears aren't always cause for a party. In fact, Alaska is embroiled in an ongoing and sometimes passionate dispute with the federal government and conservation groups over the polar bear's status.
In January, Alaska's only congressman, Rep. Don Young, introduced bill H.R. 39, the Polar Bear Delisting Act, designed to strip the bear of its 'threatened' status under the Endangered Species Act, a designation the species received in 2008.
It was the second time Young introduced such a bill. The Republican lawmaker submitted a previous version, H.R. 5379, in May 2010, but the bill never came up for a vote and died at the close of the 111th Congress, in late 2010.
In addition, Alaska is suing the U.S. government to have the polar bear's threatened status removed, and it is the lawsuits, playing out in court in Washington, D.C., since 2008, that may have a more immediate effect on the future of the polar bear.
Ice, ice maybe
The polar bear was listed as a threatened species (defined as a species likely to become endangered in the foreseeable future) because of losses of the bears' key habitat: Arctic sea ice , which has declined steadily in recent decades.
The bears depend on the annual appearance of the ice to reach their offshore hunting and feeding grounds. The ice floes, which cover the Arctic's frigid ocean waters each winter, take the massive carnivores to the offshore habitats of ringed seals, polar bears' main source of food. Without sea ice, the bears can't reach their prey .
Satellite data show Arctic sea ice cover has been decreasing since 1979, when the satellite records first began, according to the National Snow and Ice Data Center (NSIDC).
The data show that ice cover in September the month when Arctic ice retreats to its lowest extent for the year has shrunk by more than 11 percent each decade over the last 30 years, and some NSIDC researchers foresee an ice-free Arctic summer before century's end.
"When I first came to Alaska in the middle of the summertime, you could stand on the beach and see the sea ice out there," said Steven C. Amstrup, a wildlife research biologist who spent three decades studying polar bears for the U.S. Geological Survey.
"You can't anymore, now it's hundreds of miles off shore. Out there, the water is deep and unproductive and we believe the bears aren't doing well out there," Amstrup, now a senior scientist for the group Polar Bears International, told OurAmazingPlanet.
Bear facts
However, some Alaska officials contend that polar bears are doing just fine.
"Polar bears are at an all-time high of abundance level," said Doug Vincent-Lang, the state's coordinator for endangered species. "The only reason the service listed them was based on speculation from fairly untested models based on what the fate of polar bears may be in the future."
Vincent-Lang pointed to data from the Polar Bear Specialist Group (PBSG), an independent, international organization of scientists from all five territories where polar bears live: Russia, Norway, Greenland, Canada and the United States.
According to the PBSG, there are 20,000 to 25,000 polar bears worldwide, and Vincent-Lang said that number has remained unchanged in the last six to eight years.
The latest data from the PBSG, from 2009, indicate that of the world's 19 polar bear subpopulations, seven haven't been assessed because of lack of data, four are stable, and eight are declining.
Alaska is home to two subpopulations, in the Chukchi Sea and Southern Beaufort Sea, and both are listed as declining.
The estimated future risk of decline for the Chukchi Sea population is unknown, due to lack of data, and for the Southern Beaufort Sea population, the risk is qualified as moderate.
Vincent-Lang said that for Alaska, the lack of data is troubling. He acknowledged that some subpopulations may be decreasing, but that those bears may have moved into other regions where data are lacking.
In addition, Vincent-Lang said there's been insufficient study of how the bears may change their habits in the face of changing sea-ice conditions adaptations, he suggested, that may help the bears survive.
"You have to be able to test some of those assumptions of how the species are adapting, prior to assuming they're going to go extinct," Vincent-Lang said in a phone interview, "and we think there should be at least some point where those models are tested prior to listing."
Finally, Vincent-Lang said, there are worries that the polar bear's status as a threatened species will hinder development in the state.
Money talks
In November 2010, the U.S. Fish and Wildlife Service (USFWS), the agency that administers the Endangered Species Act, designated more than 187,000 square miles (484,328 square kilometers) in Alaska as critical habitat for polar bears.
About 96 percent of the area is offshore, to encompass invaluable sea ice. The remaining areas are terrestrial roughly 5,668 square miles (14, 680 sq. km) of shoreline for critical denning habitat, areas where female bears go to hibernate and give birth, and more than 4,000 square miles (10,400 sq. km) of barrier islands.
Bruce Woods, a spokesman for the USFWS Alaska region, said the designation prohibits any federal action that would either destroy or adversely modify the polar bear's habitat. Private action on private property for which federal funding or federal permits aren't required isn't affected.
"Very few things are actually stopped cold by the Endangered Species Act," Woods told OurAmazingPlanet. "In most case they're just mitigation measures put in place to allow development to go forward, but to go forward without decreasing survival of the species."
Both the U.S. government and the state of Alaska commissioned analyses of what impact the designation of the polar bear critical habitat might have, with vastly different results.
The federal estimate was under $1 million, with the acknowledgement that some costs, in terms of lost revenue, couldn't be accurately determined. Alaska's estimate, compiled by an independent economic research firm, predicted losses ranging from more than $200 million to $2.6 billion, largely related to delayed oil and gas production in the region.
What now?
A recent report from Alaska's Department of Fish and Game, entitled "Climate Change Strategy," begins by stating that scientific and traditional knowledge show the Arctic climate is changing at unprecedented rates, that the region is warming, and that sea ice is currently and will continue to be affected by the temperature changes.
Both sides of the lawsuits over the polar bear's status acknowledge that the bear has become a proxy in a war over how to handle what is causing the ice around Alaska, and elsewhere in the Arctic, to disappear.
"I think the unfortunate thing is the polar bear largely is being used as a centerpiece to try to further the climate change debate," Vincent-Lang said. "This really is not as much about polar bear conservation as it is dealing with the climate change debate."
However, some who are pushing to not only maintain but increase protections for polar bears, those like scientist Steven Amstrup, may welcome such words.
Amstrup said that he understood there are legitimate concerns among Alaskans who worry that the bear's protected status could have on-the-ground, negative effects.
"I think those are concerns that ought to be dealt with, but I think they really are a small part of the overall issue," which is curbing greenhouse gas emissions, Amstrup said.
"Fighting the listing of polar bears has become code for questioning the reality of global warming," Amstrup said. "You can spend a lot of energy going through the motions of setting aside habitat for polar bears, but if you don't mitigate greenhouse gases, there really is no long-term benefit from setting that habitat aside."
The legal battle over the polar bear's status continued at a Washington, D.C., hearing on Feb. 23. A conservation group, the Center for Biological Diversity, argued the bear's listing should be upped from "threatened" to "endangered," while an attorney for Alaska argued that the bears should be removed from the USFWS list of vulnerable species all together.
Amstrup said that it's understandable that the world's largest bear, a charismatic animal by all accounts, can inspire such passionate feelings, for ill or for good.
"Polar bears are magnificent. Even after 30 years," Amstrup said. "Flying out over the sea ice, that first polar bear of the season, you'd catch your breath and go, 'Holy----, there's a real wild polar bear.'"
Reach Andrea Mustain at amustain@techmedianetwork.com. Follow her on Twitter @AndreaMustain.
Stay up to date on the latest science news by signing up for our Essentials newsletter.
Andrea Mustain was a staff writer for Live Science from 2010 to 2012. She holds a B.S. degree from Northwestern University and an M.S. degree in broadcast journalism from Columbia University.