Life with Lions: Wildlife Filmmakers Tell All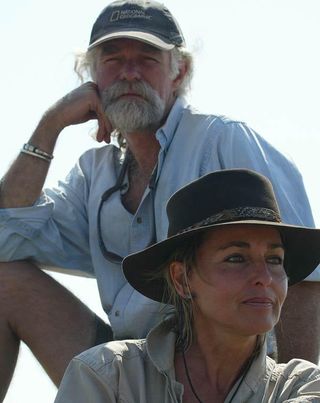 (Image credit: Graham Boynton.)
For more than 30 years, Dereck and Beverly Joubert have documented the lives of Africa's iconic and endangered big cats, first in their native South Africa, and now in Botswana, their home since 1981.
From their home base on a tiny island, in a river around which lions prowl , the husband-and-wife team live a life worthy of an edge-of-your-seat adventure novel (with a sizable dash of romance).
Embedded among some of Africa's fiercest predators, the Jouberts have survived plane crashes, parasites and an encounter with a wounded, charging elephant all for the sake of the animals, many of them endangered, they profile in photographs and on film.
All this week, the Jouberts' work, along with other films about the planet's largest felines, is featured on Nat Geo Wild's first-ever "Big Cat Week."
OurAmazingPlanet caught up with the Jouberts during one of their short stateside visits to get an inside look at what fuels the couple's lifelong dedication to studying Africa's fiercest cats.
OurAmazingPlanet: How did your work with lions and other big cats begin? Did you initially set out to do this sort of long-term documentary work?
Beverly: It was a little bit of an evolutionary process. We started off studying lions in South Africa . That was over a three-year period, and it truly opened our eyes, because what we were witnessing hadn't been documented before.
It was wonderful that we had an understanding of animal behavior; we managed to blend the creativity and science together.
Very early we realized that to produce a film over a three-month period was such a small slice of life; we wanted to do a film over a much longer period. We realized it was important to do things that way patiently sitting and watching, not putting ourselves on camera. It was important to just document what was happening, so we needed the luxury of time.
OAP: Your lifestyle is, to say the least, a bit unusual. How in the world did the two of you meet? And end up living in the middle of nowhere in Botswana making films together?
Dereck: We went to high school together, that's where we met. But I remember there was a party for Beverly's 21st year I looked around the room and there were a lot of other 21-year-old girls there, all with very mediocre ambitions. I remember saying to Beverly, enjoy the night, but I think that tomorrow we should leave we should go out into the bush and live an extraordinary life. Because the alternatives were scary.
I think, largely, Beverly and I had fallen in love and wanted to go out and lead a romantic lifestyle, and stumbled into the science and the conservation and the filming. But very early on we discovered we needed to be a voice, and a voice for conservation.
Beverly: I had prepared my parents. I told them, 'Please understand, and do not be offended or hurt, but I'm not going to lead the same life, in a suburban society.'
OAP: And did you leave the next day?
Dereck: We did actually that's when we started our work in South Africa.
It's an interesting life for us. We now live in a tent, on an island in the Okavango River. That's what we call home. We don't have a staff, it's just us. We do everything ourselves; we repair the tent when snakes and mice dig their way in, we follow lions, we record our thoughts in Moleskin journals, and all of those things that could place us in an environment 100 years ago in many ways.
And yet we've got the most recent HD cameras that are capturing these images. There's this funny sort of blend of authentic exploring, modern-day technology, creative thought and romance all intersecting in one spot in our lives
Beverly: Doesn't this just make you want to come and join us?
OAP: In a word, yes! You must have had some close shaves over the years. Was there any time you thought the jig was up and you were in for it?
Beverly: We have had close shaves with various animals, as well as some tiny critters, getting drastically ill from the water, and Dereck getting malaria. Once, an elephant that had been wounded by poachers charged us and picked up our vehicle and tossed us around.
But we haven't had any close shaves with the cats, except for one time when we were on foot, and we were charged by a male lion. The only thing that saved us is he had to cross over a very long, dry riverbed; there was an incline he had to climb up, and the sand gave way. Once he slid down, I think that saved us.
And we've had two plane crashes. We fortunately managed to walk out of both of them. Both of them were related to the brakes failing in landing. In one, there were some giraffes in our path, and we didn't want to hurt them. So to avoid the giraffes, the plane had to turn at such a fast pace that we overturned the plane.
OAP: Good heavens.
Dereck: We don't do boring well.
OAP: It sure sounds like it! There's a remarkable episode between a leopard and a baboon in your doc "Big Cat Odyssey" that's playing this week. A young female leopard kills an adult baboon, which is revealed to be carrying a tiny, day-old baby. What happens next is really incredible the leopard saves the baby baboon. Was that a surprise?
Dereck: What she did was something extraordinary. It went on for about five hours, and we couldn't step away because it was so fascinating. She picked the baby baboon up, and saved it from hyenas, carrying it to the upper branches of a tree. And every time it fell out she'd go and pick it up again; she was really caring for it.
She was at a crossroads. A predator, born and bred, and still at the brink of leaving behind the world of being a cub but also with this blooming maternal instinct inside her. She didn't kill that baboon, which was a real surprise to us and to the entire scientific community. We can't explain that behavior, it just doesn't make sense. But we literally moved in with this leopard for four years, so we get exposed to this behavior.
OAP: What is the main goal of your most recent work, which seems to focus on Africa's lions and leopards?
Dereck: We are trying to draw attention to the fact that these are cats we should celebrate and have respect for, hence "Big Cat Week." The thrust of the week is to bring attention to the fact that, really and truly, big cats around the world are down by 95 percent.
Beverly: We don't have a lot of time only a 15-to-20-year window, and I don't believe that we want to be responsible for turning these animals into the dinosaurs of tomorrow. These animals are actually keeping vast tracts of land alive and healthy. And if we can't save the cats, then we really can't save ourselves either.
See the Jouberts at work in the documentary "Big Cat Odyssey," featured on Nat Geo Wild this week. In February 2011, the Jouberts are releasing a book and a feature film on Africa's lions.
Reach Andrea Mustain at amustain@techmedianetwork.com. Follow her on Twitter @AndreaMustain.
Stay up to date on the latest science news by signing up for our Essentials newsletter.
Andrea Mustain was a staff writer for Live Science from 2010 to 2012. She holds a B.S. degree from Northwestern University and an M.S. degree in broadcast journalism from Columbia University.