Foamy Invention Could Save Energy and Lives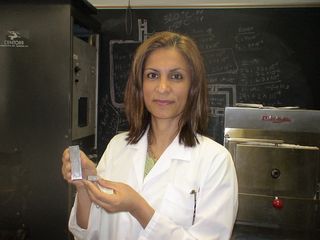 (Image credit: College of Engineering at North Carolina State University)
This Behind the Scenes article was provided to LiveScience in partnership with the National Science Foundation.
She's fluent in three languages. She's studied everywhere from Tehran to Tokyo to Cambridge, Mass. And she's invented a space-age material so light and strong that it could revolutionize everything from vehicle bumpers to armor to biomedical devices. The ultra-high-strength composite metal foam created by Afsaneh Rabiei is a highlight of a well-traveled career during which the researcher has tried to learn everything she can about advanced materials. The result: a brand new material that can save energy and lives. "Basically, it is a new material for all sorts of safety devices," said Rabiei, associate professor of mechanical and aerospace engineering at North Carolina State University. Rabiei's invention isn't the first metal foam, but she says it's the strongest. The main weakness of existing metal foams is the varying sizes of their cells — tiny pockets of space inside the material. Instead, Rabiei used cells of standard sizes and combined them with a metallic matrix to support the cell walls. That helps
A light, strong material Rabiei has been working on high-performance materials for more than 20 years. She studied materials science and engineering while getting her undergraduate degree at Sharif University of Technology in Tehran, Iran, in 1986. After spending some time in industry — getting more experience in casting, welding and materials testing — she returned to academia and obtained her Ph.D. in 1997 from The University of Tokyo. Her work on the metal foams began when she was a post-doctoral researcher at Harvard University. Along the way, she's become fluent in English, Japanese and Persian and written four books and dozens of other publications. The National Science Foundation awarded her a CAREER award in 2003, and her goal with the funding was to develop a light, strong material that could be used saving lives and energy in the aerospace, medical, automotive and other industries. After five years of work —with a group of her students — she has the results. Rough traffic accident calculations show that by inserting two pieces of her composite metal foam behind the bumper of a car traveling 28 mph, the impact would feel the same to passengers as impact traveling at only 5 mph. Applications: airplanes, boats The results are most striking when the material is tested in a lab. The test itself is exciting: a high-powered machine smashes a piece of steel foam straight down into the base plate of the machine, and then does the same thing with a piece of bulk steel. When she examines the base plates under both samples, there's a clear indentation left under the bulk steel sample, while the plate under the foam shows no indentation. The test shows how the foam absorbed the energy and protected the plate, while the steel simply transferred it to the base plate with no protection. And since the bulk steel is three times heavier than the steel foam, it's easy to see how the foam could attract car manufacturers looking for a bumper that will improve safety and gas mileage. Rabiei sees plenty of uses for her invention, including in airplanes, boats, and structures that need impact protection with maintaining low weight. It's this high strength-to-density ratio — defining a material that's both strong and light — that makes Rabiei's foam unique. "This material showed a much higher strength-to-density ratio than any metal foam that has ever been reported," she said.
Video: Aviation Oddities
Great Inventions: Quiz Yourself
Editor's Note: This research was supported by the National Science Foundation (NSF), the federal agency charged with funding basic research and education across all fields of science and engineering. See the Behind the Scenes Archive.
Stay up to date on the latest science news by signing up for our Essentials newsletter.