Drone Wars in America: Op-Ed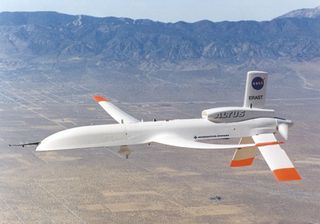 (Image credit: NASA)
Jeff Nesbit was the director of public affairs for two prominent federal science agencies and is a regular contributor to U.S. News & World Report, where this article first ran before appearing in LiveScience's Expert Voices: Op-Ed & Insights.
The drone wars are coming to America.
While most of us are aware of the lethal Predator drones that target terrorists outside the United States, not many know that this very same technology (minus the missiles) is coming to America in a big way to aid police and homeland security departments operating across the United States.
And, depending on your perspective, the rapid uptake of drones to track illegal immigrants at the border, detect drug smuggling or track criminal activity in high-risk neighborhoods is either a boon to public safety or a grave risk to privacy.
The reason the use of drones in cities is poised to become widespread is because Congress has required the Federal Aviation Administration (FAA) to loosen its regulations on the use of unmanned aerial vehicles (UAVs) and drones for domestic surveillance purposes and allow more drones in domestic airspace by 2015. [10 Ways the Government Watches You]
Two recent reports highlight this growing tension, which ranges from concerns that the use of military-style drones in cities could invade our privacy to the promise that drones and UAVs could represent a serious, new industry as dozens of companies develop more than 150 new drone and UAV systems for all sorts of uses in America.
Because there are virtually no hard statistics on the use of drones by police departments and public safety agencies in cities across the U.S., the American Civil Liberties Union (ACLU) launched a nationwide investigation earlier this month into police use of drones and other military technologies traditionally used overseas.
And the leading industry group representing companies developing drones for domestic use, the Association for Unmanned Vehicle Systems International (AUVSI), released a new study earlier this month indicating that the UAV industry may soon create tens of thousands of new jobs in the U.S. to support the growth of the industry in cities and states across the country. The industry is literally exploding, with U.S. sales expected to reach $6 billion annually within a few years.
In addition, the Electric Frontier Foundation (EFF) — the nonprofit watchdog group that first raised privacy concerns about the use of drones by police departments — recently released a map that illustrates dozens of locations and cities where municipalities, universities, agencies or companies have applied to the FAA to fly UAVs such as unarmed Predator drones.
EFF filed suit against the FAA a year ago, demanding that the agency publicly release data on certificates and authorizations the agency had issued for the operations of drones domestically. The FAA, the sole federal agency authorizing drone flights in the U.S., initially balked.
But the FAA eventually began to release data on such domestic authorizations for drone use to EFF — detailing information from 360 such applications — which recently mapped the information online. EFF also announced a new project, a Drone Census, which it promises to release this year.
Meanwhile, individual legislators in 33 states introduced bills in just the past two months to restrict drone use in the name of privacy as an opening gambit in efforts to limit such use.
While several U.S. cities have abandoned plans for their police departments to use drones in surveillance activities after such plans provoked local outcries — for instance, Seattle canceled its drone program last month even before it got started, after local community activists caused a ruckus — the most intense scrutiny of drone use in the United States appears to be the adaptation of Predator drones at U.S. borders. U.S. Customs and Border Patrol (CBP) flies nine Predator drones along the Mexican and Canadian borders to track illegal immigration and drug smugglers. [Study to Develop Policies for Police Drones]
Because such Predator drones — virtually identical to the drones used overseas by the military, minus the missiles — can stay in the air for more than a day at a time and are equipped with incredibly powerful, high-definition cameras that can identify people and license plates from miles away, they are ideal for such border surveillance. And, CBP has been lending out the drones to federal, state and local law-enforcement agencies with no oversight, EFF has said.
As part of the investigation it announced earlier this month, the ACLU filed more than 255 public-records requests in 23 states in an effort to find out the extent of just this sort of drone-lending activity, as well as the extent to which local police departments are using federally subsidized military technology and tactics that are more commonly used overseas.
"Equipping state and local law enforcement with military weapons and vehicles (such as drones) … to conduct traditional law enforcement erodes civil liberties and encourages increasingly aggressive policing, particularly in poor neighborhoods and communities of color," said Kara Dansky, senior ACLU counsel.
"The American people deserve to know how much our local police are using military weapons and tactics [such as drones] for everyday policing," added Allie Bohm, also with the ACLU.
The UAV industry, though, shows no signs of slowing down, even as groups like the ACLU and EFF raise concerns. As unmanned aircraft are fully integrated into national airspace over the next three years, dozens of companies are expected to sell hundreds of drones or systems, generating tens of thousands of new jobs.
"The economic benefits to the country are enormous," AUVSI said in its recently released report. "[And] states that create favorable regulatory and business environments for the industry and the technology will likely siphon jobs away from states that do not."
In fact, AUVSI said, the economic impact in the U.S. could approach $100 billion in the next 10 to 15 years as more than 100,000 new jobs are created to meet the demand for such systems and capabilities. Some of this will aid the agriculture sector hoping for more precision in the use of pesticides, with the rest of the growth in the public-safety sector.
So as groups like the ACLU and EFF fight for greater public scrutiny of what is clearly an emerging growth industry in America, one thing seems certain: the drone wars in America are only just beginning.
This article first appeared as Drone Wars in America in the column At the Edge by Jeff Nesbit on U.S. News & World Report. Read Jeff Nesbit's most recent Op-Ed: Marijuana Majority: Americans Now Back Legalization.
The views expressed are those of the author and do not necessarily reflect the views of the publisher.
Stay up to date on the latest science news by signing up for our Essentials newsletter.