Record Crests at Midwest Rivers; Flooding to Continue This Week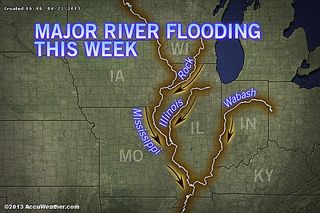 (Image credit: AccuWeather.com)
This article was provided by AccuWeather.com.
River flooding ongoing from Michigan to Tennessee has led to record crests along parts of several major rivers. While dry weather is forecast through Monday, additional rain on Monday night into Tuesday could lead to additional rises.
According to AccuWeather.com Expert Senior Meteorologist Alex Sosnowski, "Torrential rain last week, concentrated in two days or less, has led to major flooding in parts of the Midwest. In some areas, flooding will continue well through the upcoming week.
According to Chief Meteorologist Elliot Abrams, "Some of the highest rainfall totals in this area were around Chicago, where O'Hare International Airport recorded 5.38 inches of rain in two calendar days on the 17th and 18th."
Such high rain amounts in a short period of time have led to record crests along the Des Plaines River in Illinois and the Illinois River in Illinois over the last two days.
According to the National Weather Service in Chicago, a crest of 10.92 feet on the Des Plaines River at Des Plains, Ill., broke a record from way back on Oct, 1, 1986.
There was also a record-breaking crest at the Des Plaines River at Riverside, Ill., of 11.42 feet, breaking a record from August 15, 1987.
Record flooding occurred on Friday and Saturday along the Illinois River at Morris, Ottawa and La Salle, Ill. The water levels beat out the previous record levels which were reached back in September of 2008.
The Mississippi River also remains in moderate to major flood stage across Missouri. The river at St. Louis, Mo., is expected to peak on Thursday in moderate flood stage before falling next week.
Meanwhile, the Mississippi River at Quincy, Ill., is just about to crest in major flood stage with a gradual fall expected through much of next week.
On Sunday, the U.S. Coast Guard reported that the Mississippi River at Vicksburg, Miss. had closed after 30 barges broke free from their tow. The barges hit the U.S. 80 bridge over the Mississippi River. An officer stated that 15 of the barges had been recovered and several had sank. Officials are unsure if high water levels or high flow rates were to blame for the incident.
Flooding continues even over to Indiana where the Wabash River is at major flood stage in many locations across the western part of the state. It is expected to crest tonight before falling through much of next week.
Even though some of the rivers are cresting and levels will begin to fall early this week, other rivers are still rising thanks to continued runoff from small streams into progressively larger rivers.
In fact, the Illinois River at Beardstown and Valley City, Ill., will continue rising through much of the upcoming week, with record flood stages expected by Thursday night.
Additional rain will fall over the Midwest on Monday night into Tuesday, but its effects won't be nearly as widespread.
However according to Meteorologist Evan Duffey, "The system is forecast to move at a faster pace with less intense rainfall for most hard-hit areas of this past week. However, there is still the risk of the rain aggravating flooding problems in a few locations."
AccuWeather.com. All rights reserved. More from AccuWeather.com.
Stay up to date on the latest science news by signing up for our Essentials newsletter.