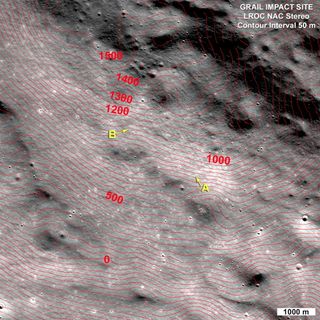 (Image credit: NASA/GSFC/Arizona State University)
An eagle-eyed NASA spacecraft has spotted the tiny craters two moon probes created when they crashed intentionally into the lunar surface last year.
NASA's Lunar Reconnaissance Orbiter (LRO) snapped a series of photographs of the two 16.5-foot-wide (5 meters) craters, which mark where the space agency's twin Grail probes ended their gravity-mapping mission, and their operational lives, on Dec. 17.
"It was really fun to find the craters," Mark Robinson of Arizona State University, principal investigator for the Lunar Reconnaissance Orbiter Camera (LROC), said today (March 19) during a press conference at the 44th Lunar and Planetary Science Conference in The Woodlands, Texas.
It's a bit of a surprise that the LROC team was able to find the craters at all, Robinson added. LRO orbits the moon at an altitude of about 100 miles (160 kilometers), and the craters are small, nondescript features on a body riddled with impact scars. [Grail Probes' Final Moments (Video)]
The two Grail spacecraft — known as Ebb and Flow — slammed into a mountain near the lunar north pole at 3,771 mph (6,070 km/h), striking the surface about 20 seconds apart. They were running out of fuel and were bound to crash at some point, so the Grail team brought them down in a controlled fashion away from areas of historical importance such as the Apollo landing sites.
The Grail craters first showed up in LROC photos from January, but images taken on Feb. 28 show them in much greater detail. Robinson and his team used these later photos to produce a topographic map of the impact zone, which was named after the late NASA astronaut Sally Ride, who had led Grail's educational MoonKAM project before her death last July.
This map revealed that the two craters are separated by about 7,250 feet (2,210 m) in straight-line distance and 985 feet (300 m) in altitude, researchers said. Surprisingly, the crashes ejected material that appears darker than the surrounding lunar dirt.
"Fresh impact craters on the moon are typically bright, but these may be dark due to spacecraft material being mixed with the ejecta," Robinson said in a statement. This material may be residual fuel left in the probes' lines, or bits of their carbon-fiber bodies, he added.
LRO also managed to observe the immediate aftermath of the Dec. 17 Grail impacts after performing some precision maneuvering, team members announced today.
LRO didn't get any images of the actual crashes, which occurred in the dark. But its ultraviolet imaging spectrograph did see emissions from mercury and atomic hydrogen in the ejected plumes when they rose high enough to reach sunlight.
"This gives insight into how volatile material is transported around the moon," LRO chief scientist John Keller, of NASA's Goddard Space Flight Center in Greenbelt, Md., said in a statement. "It gives us a data point that helps constrain models of volatile transport, especially for models that describe how volatile material can get transported from warm to cold areas on the moon."
The analysis of the Grail impact plumes is ongoing, researchers added.
The $496 million Grail mission — short for Gravity Recovery And Interior Laboratory — launched in September 2011. Ebb and Flow arrived at the moon about three months later, then raced around Earth's satellite in tandem, mapping out its gravity field in unprecedented detail.
The probes' measurements have allowed scientists to create the best-ever gravity map of any celestial body, Grail scientists say. And that map is getting better all the time, as researchers continue to analyze the data Ebb and Flow gathered in their last weeks and months.
The twin probes, which were each about the size of a washing machine, zipped around the moon at an average altitude of just 7 miles (11 km) in their final days.
"They dedicated their existence to science," Grail principal investigator Maria Zuber of MIT said during today's press conference, which also revealed an updated lunar gravity map. "Their demise allowed us to map the moon at a very low altitude that enabled the high-resolution maps that you see today."
This story was provided by SPACE.com, sister site to Live Science. Follow Mike Wall on Twitter @michaeldwall. Follow us @Spacedotcom, Facebook or Google+. Originally published on SPACE.com.
Stay up to date on the latest science news by signing up for our Essentials newsletter.

Michael was a science writer for the Idaho National Laboratory and has been an intern at Wired.com, The Salinas Californian newspaper, and the SLAC National Accelerator Laboratory. He has also worked as a herpetologist and wildlife biologist. He has a Ph.D. in evolutionary biology from the University of Sydney, Australia, a bachelor's degree from the University of Arizona, and a graduate certificate in science writing from the University of California, Santa Cruz.