Olympics Wise Up On Gender Testing, Finally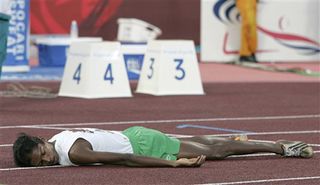 (Image credit: AP Photo/Lee Jin-man)
Alarms sounded last week when Beijing Olympics officials set up a gender-testing lab, as media reports claimed that female athletes might once again have to endure humiliating and potentially inconclusive tests to compete.
Such fears have a basis in Olympics history, but could prove unfounded this time. The International Olympic Committee (IOC) now has gender testing labs ready only in the event of challenges to individual athletes by an official.
"Unfortunately, some statement was made in Beijing which gave the impression that something new would happen in the area of gender verification at the Beijing games," said Dr. Arne Ljungqvist, chairman of the IOC's medical commission. "That is not the case. The screening for female gender that was instituted in 1968 was done away with [before] the Sydney Games [in 2000] for scientific and ethical reasons."
Mass gender screening went out of vogue because it failed to catch males masquerading as females, and unfairly screened out women athletes with genetic or hormonal disorders that might flag them as male. Many experts also see the tests as historical relics that became unnecessary due to the strict examination of athletes during modern drug testing.
"One produces a urine sample under direct vision," said Dr. Joe Simpson, a gynecologist and executive associate dean at Florida International University College of Medicine who consulted on eliminating gender testing from the Olympics. "If that's the case, it's impossible to imagine a male masquerading as a female if someone's watching them urinate."
In other words, gender screening has vanished because it does nothing to ensure a more competitive field for athletes.
No competitive advantage
Olympic organizers established gender screening during the Mexico City Games of 1968, concerned that Communist Eastern European nations had sent men disguised as women to raise their medal counts.
"Suspicion was placed regarding the gender of some highly successful Eastern European athletes," said Dr. Myron Genel, an endocrinologist at Yale University who helped the IOC revamp its gender rules in both 2000 and 2004. "Back in that era no one was paying much attention to steroid abuse, and you have to wonder if they were ahead of their time."
Good intentions did not turn up any imposters during gender screening. Instead, the gender tests punished athletes with disorders that affected their sex chromosomes or genitalia appearance.
"It was unfair not to allow them to compete, particularly since there's no plausible reason to think they would have had an advantage," Simpson said.
Early tests often required female athletes to submit to a nude examination. Even more advanced molecular tests that eventually replaced the so-called buccal smear test for chromosomes did not rule out problems with genetic or hormonal disorders.
One runner, Maria Jose Martinez-Patino, lost her first place finish in the 60-meter hurdles in Spain's 1986 national championships after an earlier test showed that she had a male's XY chromosomes instead of a female's XX chromosomes. She fought hard to get her disqualification overturned in time to try for the 1992 Olympics in Barcelona, but had lost her athletic momentum and missed the qualifying mark by just ten hundredths of a second.
"I lost friends, my fiancé, hope and energy," said Martinez-Patino in a 2005 editorial in the journal Lancet. "But I knew that I was a woman and that my genetic difference gave me no unfair physical advantage."
Changing gender rules
By the turn of the second millennium and the Sydney Games, gender screening had become outdated due to the evolving and more-revealing nature of athletic gear as well as increasing problems with doping, which changed how urine tests were done.
"Our recommendation was that to begin with, the clothing worn in athletic competition was such that it'd be hard for a male to successfully masquerade," said Genel. "Even assuming that was not true, the requirement that the urine be passed under direct visualization for doping would detect any male imposter."
Olympic officials also added new rules allowing transsexual athletes to compete starting in the 2004 Athens Games, after such athletes had undergone hormonal sex change treatment for at least two years.
Some experts questioned whether a male-turned-female might hold an advantage over other female athletes. However, Genel and Simpson pointed out that most transsexual athletes have the additional struggle of competing beyond the prime athletic ages of their teens and early 20s.
"An individual who is going through the torturous path of sex reversal or sex change is likely to take several years," Genel said. "It's not likely they're going to be at that optimal age level."
Size and bone structure could remain as a built-in advantage, but not much more than any normal competitive female athlete.
"We don't discriminate against size in women's basketball or women's volleyball," Simpson pointed out. "In terms of skeletal abnormality, there's a fair amount of variation."
Besides, the physicians said, male athletes don't seem eager to undergo sex change operations merely to compete with a minimal advantage.
Fair application
Perhaps the only remaining issue concerns whether gender tests can ever apply fairly, even in the rare case of a challenge.
The question arose recently when Indian runner Santhi Soundarajan lost her 800-meters silver medal upon failing a gender test at the Doha Asian Games in 2006. An official had demanded the test after Soundarajan's initial victory.
Some have wondered whether that represented a tragic case of inconclusive gender testing, although the situation remains murky to outside observers. Soundarajan later attempted suicide in 2007 and fell into a coma, insisting up to that point that she was innocent. She had previously held a female birth certificate.
"My suspicion is that she has one of these rare disorders of sexual development," Genel said. "The way it was handled with all the publicity was totally inappropriate. Part of the rationale to come up with concrete procedures was to avoid this."
Beijing Olympic officials can only hope to avoid such controversy and continue a more progressive path for the international competition.
"The fiasco that attended the Indian athlete was a good example of how not to do it," Genel noted.
Quiz: Test Your Olympic Knowledge
What Do the Olympic Rings Symbolize?
Stay up to date on the latest science news by signing up for our Essentials newsletter.
Jeremy has written for publications such as Popular Science, Scientific American Mind and Reader's Digest Asia. He obtained his masters degree in science journalism from New York University, and completed his undergraduate education in the history and sociology of science at the University of Pennsylvania.