Slippers of Napoleon's Sister Found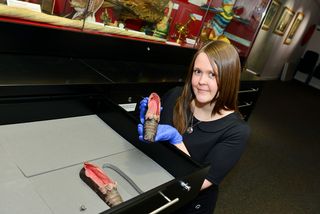 (Image credit: University of Aberdeen)
A delicate pair of slippers that had been sitting unnoticed in a Scottish university's collection for more than a century may have actually belonged to Napoleon Bonaparte's sister, Princess Pauline Borghese, researchers say.
The narrow silk and leather shoes, which measured just 1.5 inches (40 millimeters) across the toes and about 4 inches (10.2 centimeters) long, were marked on the sole "Pauline Rome." They would fit a small child today, but might have been perfect for the famously petite princess who researchers say was often carried from room to room. Pauline would have been the youngest of Napoleon's three sisters; Napoleon also had four brothers.
They tiny slippers were sitting inside a chest of clothes in the collection of the University of Aberdeen, where they attracted the attention of Louise Wilkie, a museum staff member. Wilkie said the slippers were given to the museum by Robert Wilson (1787 – 1871), who traveled the world extensively as a ship's surgeon and had a friendship with Princess Pauline Borghese.
"Letters from him to Pauline show a close friendship, and in his diary he describes how she spent a lot of time with him travelling in Italy and gave him many gifts, including a ring which is also held in the museum collections," Wilkie said in a statement.
Though it's not clear Pauline and Wilson had a love affair, the princess was known for her infidelity to Prince Camillo Borghese, whom she wed in 1803.
"The relationship between Wilson and Princess Pauline can only be speculated upon, however records do indicate some form of attraction and attachment," Wilkie added. "In his diary he wrote 'I passed a fortnight in the vicinity of Pisa with the Princess Borgese in a state of almost perfect seclusion and afterwards accompanied her to the Baths of Lucca.' It seems she spent a great deal of time with him in Italy and a close friendship developed."
Follow LiveScience on Twitter @livescience. We're also on Facebook & Google+.
Stay up to date on the latest science news by signing up for our Essentials newsletter.