Shorter Hospital Stays Don't Mean Readmissions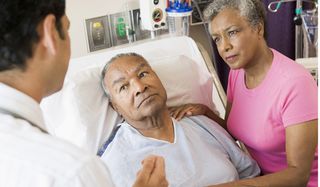 (Image credit: Dreamstime)
Hospitals are releasing patients faster and faster these days, but little is known about whether people are being sent home too soon. Now, a new study has found that earlier discharges do not necessarily result in expensive and stressful readmissions.
Researchers reported that the length of the typical hospital stay decreased by nearly one-third (27 percent) between 1997 and 2010, from five and a half days to four days. During that same period, the rate of readmissions within 30 days of leaving the hospital dropped by 16 percent, with hospitals eliminating nearly three out of every 100 readmissions.
The researchers analyzed more than 4 million patient records across the Veterans Affairs hospital system and examined five of the most common diagnoses for admission to the hospital, excluding patients hospitalized for psychiatric conditions or surgery.
The investigators were concerned that the decrease in readmissions was associated with discharged patients dying at home. However, the data also showed that despite shorter hospital stays, the likelihood of dying within 90 days of being admitted to the hospital also dropped by 3 percent annually.
"To see all three of these factors improve over a 14-year period is incredibly reassuring that our health care system is becoming more efficient and safer," said study author Dr. Peter Kaboli, of the Iowa City VA Health Care System.
The VA system data aren't relevant to most U.S. hospitals. That's because the VA system controls all aspects of a veteran's health care. By contrast, health care in the U.S. is primarily a hodgepodge of independently operated clinics, hospitals, pharmacies and nursing homes.
"Medical care in this country is not a system; it's a bunch of individual forces or players each of whom takes a small part of the system," said Dr. James Goodwin, director of the Sealy Center on Aging at The University of Texas Medical Branch in Galveston, who was not involved in the current study.
"You really can increase efficiency and increase quality simultaneously when you have an integrated system. To be able to reduce hospital length of stay to that degree, those are huge changes," Goodwin said. "While there's a lot of resistance, we're moving towards integrated systems."
Readmissions aren't the only measure of hospital care quality. Others include hospital-associated infections, safety issues like falls in older people and medication safety, Goodwin said. About 25 percent of readmissions are linked to preventable causes, Kaboli added.
Though patients and family members can't change the health care system, researchers said the study has a takeaway message: From the minute a person enters a hospital, she should ask the doctor when she can expect to be discharged. Patients and families should discuss the proposed length of the hospital stay and make sure a patient doesn't leave if she doesn't feel ready.
"Communication is key from the beginning of a hospital stay," Kaboli said. "It's for your benefit not to stay longer than you need to."
"There is no absolute rule. There's no computer governing your movement in and out of the hospital," Goodwin added. "You can influence that process and clearly stating your desires has an impact.
The study appears online today (Dec. 17) in the journal the Annals of Internal Medicine.
Pass it on: Early hospital discharge doesn't always mean readmission.
This story was provided by MyHealthNewsDaily, a sister site to LiveScience. Follow MyHealthNewsDaily on Twitter @MyHealth_MHND. We're also on Facebook & Google+.
Stay up to date on the latest science news by signing up for our Essentials newsletter.