New Museum of Math Opens in New York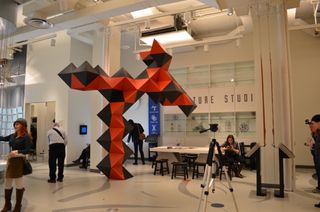 (Image credit: Clara Moskowitz/LiveScience)
NEW YORK — The floors, the staircases, and even the bathrooms are imbued with math at the new National Museum of Mathematics (MoMath), set to open here Saturday (Dec. 15).
The country's first museum dedicated to math, the two-floor facility is aimed at the whole family, and will open to the public just north of Madison Square Park at 11 E. 26th St. The museum features more than 30 exhibits, every one interactive and colorful, that communicate the many ways math plays a role in our world and our everyday lives.
"We want to show that math is fun, that math is beautiful, and that math will get you a really good job," MoMath founder and executive director Glen Whitney told reporters during a press preview Thursday (Dec. 13).
Visitors can create video fractals with their own bodies by posing in front of a camera that multiplies their form over and over again. Kids can ride a tricycle with square wheels that manages to roll smoothly because of a specially curved track. And the cool, eerie connections between numbers are revealed by a 23-foot (7-meter)-tall multiplication experiment that occupies the main staircase. [Museum of Math: Photo Tour ]
"There's been such a dearth of great interactive experiences having to do with math," Whitney said. "We want people to play; we want people to just take things, try them out."
The museum is meant to engage New Yorkers of all ages in the joy of math. An adult math tournament called MoMath Masters will be held annually, and kids clubs and camps are planned. The museum will even offer custom math tours of any area of New York City for groups.
"The biggest thing we're trying to do here is change people's perspective of mathematics," said museum associate director Cindy Lawrence.
Other museum exhibits include:
Tessellation Station — Move around magnetic tiles in geometric shapes on a huge metallic wall to create beautiful patterns.
Harmony of the Spheres — Touch large colored balls to make major and minor chords, as each sphere plays a different note.
Twist 'n' Roll — Try to match bizarrely shaped objects with the funny-shaped paths they create when they roll.
Hyper Hyperboloid — Sit inside a column of vertical strings and spin your swivel chair to twist the strings, creating a curved surface from straight cords.
The National Museum of Mathematics is open seven days a week, including holidays, from 10 a.m. to 5 p.m. Tickets are $15 for adults and $9 for children. For more information, visit: momath.org.
Follow Clara Moskowitz on Twitter @ClaraMoskowitz or LiveScience @livescience. We're also on Facebook & Google+.
Stay up to date on the latest science news by signing up for our Essentials newsletter.
Clara has a bachelor's degree in astronomy and physics from Wesleyan University, and a graduate certificate in science writing from the University of California, Santa Cruz. She has written for both Space.com and Live Science.