Why Women Worry About Retirement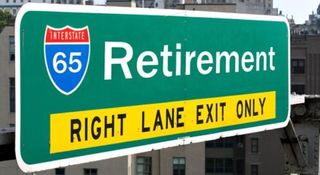 (Image credit: Dreamstime)
Women may start saving for retirement earlier than men, but that doesn't mean women feel any more confident about their ability to retire, new research has found. In fact, women worry more about their retirement savings than do men.
Overall, 22 percent of women over the age of 23 say they have begun saving for retirement, compared to just 13 percent of men from the same age group. However, 30 percent of women feel their financial situation will decline in retirement, compared to just 23 percent of men who share those fears.
"There are several legitimate reasons why this may be the case, including much of the financial industry's poor performance in engaging women around financial planning," said said Lule Demmissie, managing director, investment products and retirement at TD Ameritrade, Inc., a broker-dealer subsidiary of TD Ameritrade Holding Corporation, which conducted the research.
"Women have an opportunity to be much more engaged in the financial process," Demmissie continued. "It's important for them to take actionable steps in planning for retirement, particularly given their longer life expectancy."
Women also set higher savings goals. Women, on average, hope to save $1.8 million for retirement, as compared to the $1.3 million that men, on average, hope to set aside. The US Census Bureau says that women, on average, live five years longer than men, 80.5 years old compared to 75.5 years old.
At least one financial expert thinks women might also plan to retire earlier, as men may be more likely to stay on at part-time at jobs after retirement.
"Some people, even when they retire, still work part time, or they work in alternative careers to supplement their income," said Rich Rausser, senior vice president of Pentegra Retirement Services. "I don't have any hard facts to say that men are more likely to work than women, but that could be another factor."
However, men also feel nervous about their retirement prospects.
"We sponsored a series of in-depth interviews, and what we found was that most people who were approaching retirement were anxious," said Steve Sass, associate director of the Boston College Center for Retirement Research.
Starting early can help greatly in alleviating stress about retirement. The researchers found that women who saved for retirement before turning 30 felt significantly less anxious, frustrated and regretful about their retirement savings than those who started saving after 30. Additionally, women who started saving before turning 30 felt more positive and satisfied than those who waited longer.
"Taking control of your finances can be a bit overwhelming, especially if you don't know where to begin," said Demmissie. "Taking small steps to empower yourself can help you gain the confidence needed to make those important financial decisions."
The research was based on more than 2,000 responses from a sample of male and female workers from around the country.
Follow David Mielach on Twitter @D_M89 or BusinessNewsDaily @bndarticles. We're also on Facebook & Google+.
Stay up to date on the latest science news by signing up for our Essentials newsletter.