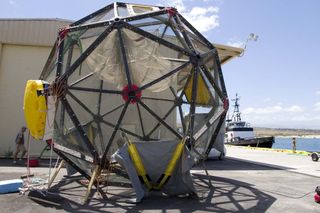 (Image credit: Jeff Milisen for Kampachi Farms, LLC)
This Research in Action article was provided to LiveScience in partnership with the National Science Foundation.
The Velella Project Beta-trial tested the world's first open-ocean, unanchored fish farm — a drifting "Aquapod" fish pen entrained in eddies in the lee of the Big Island of Hawaii.
The heart of the NSF-funded trial was a net pen, an Ocean Farm Technologies Aquapod®. Approximately 22 feet across, this synthetic lumber geodesic sphere had ballast tanks fore and aft, and an experimental copper alloy mesh intended to reduce biofouling (the accumulation of macroalgae and marine fauna that can restrict water exchange through the mesh, which may compromise fish health).
After constructing the pen, the crew used a crane to put the Aquapod into the water and suspend it at the surface on a tripod of large lift bags. This would ease the tow by reducing the amount of material below the surface exerting drag.
The pod was tethered to the 65-foot steel schooner S/V Machias, and towed out of port towards the operating area West of Hawaii Island. Machias would serve as the farm tender vessel, as well as a floating home, workshop and research platform for the next 8 months.
When the Aquapod reached the operating area, the lift bags were removed, and the ballast tanks flooded. A string of floats reaching up to the surface maintained the pen's depth.
After deployment, the crew began a one-month sea trial to ensure that the vessel-pen array was robust and fully operational.
The sea trial period was successful and in July 2011, the crew stocked the cage with about 2000 kampachi fingerlings. The kampachi quickly adapted to their new home and began to grow rapidly.
Divers monitored twice-daily feedings, to ensure that no excess feed was wasted or deposited outside the pen.
The open ocean West of Hawaii Island provided the ideal environment for the trial — high water quality, good visibility, and (relatively) stable current regimes. The Velella array, like all structures floating in the open ocean, rapidly became an oasis of life in a largely empty 'blue desert'. And the cultured kampachi thrived in the offshore environment, with high survival (98%) and excellent growth.
The Velella-grown kampachi reached harvest size (2kg) in only 5 months of grow-out operations, approximately half the expected amount of time. The last Velella kampachi were harvested out in February 2012, bringing the offshore research project to a successful conclusion.
Editor's Note: Any opinions, findings, and conclusions or recommendations expressed in this material are those of the author and do not necessarily reflect the views of the National Science Foundation. See the Research in Action archive.
Stay up to date on the latest science news by signing up for our Essentials newsletter.