Pets Pampered with People Products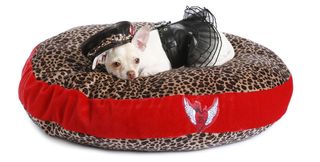 (Image credit: Pet Head)
Companies well-known for selling people products are expanding into the pet market, hoping their familiar brand names will appeal to the nation's 80 million owners of dogs and cats.
Dozens of companies — from Harley-Davidson and Jeep to Omaha Steaks and Newman's Own Organics — now produce pet clothes, toys and treats.
A slowing economy isn't even worrying companies about jumping into the sector.
"I really have no concerns at all at this point," says Steven Shweky, president of New York City-based Pet Head, a dog grooming line by Bed Head. "I think [owners] will spend on their pets before they'll spend on themselves."
Pets these days are also treated to music therapy and stem cell therapy. Their owners increasingly use pet funeral homes at that special time.
Recent figures released by American Pet Products Manufacturers Association (APPMA,) a trade group based in Greenwich, Conn., shows spending on pets topped $41 billion in 2007 — that's more than what consumers pay annually to satisfy their sweet tooth for candy.
With pet obsession at an all-time high, the APPMA is forecasting 5.5 percent growth this year.
Paul Mitchell goes to the dogs
Pet Head's recent launch of more than 300 products includes apparel and accessories as well as shampoos, crème rinses and sprays.
Products are sold in beauty salons nationwide — a sales strategy also used by John Paul Pet, popular grooming supplies created by John Paul DeJoria, co-founder of Paul Mitchell hair care products.
"There's one dog for every two people in America so your chances of hitting a pet owner [at a beauty salon] are pretty good," explained Pet Head's Shweky.
Grooming supplies use similar packaging to Bed Head with bright, bold colors and quirky names. There's Fears for Tears (tearless shampoo), Dirty Talk (deodorizing shampoo) and Furball, a detangling spray.
Doggie shampoos share the same fragrance as the human cleansers, and are free of chemical additives such as parabens, petroleum derivatives and propylene glycol.
"We've really raised the bar in the pet business to mimic what's going on in the human side, "said Shweky.
Better bowls
Another company eyeing the pet industry as an additional source of revenue is Dexas International, a housewares manufacturer in Coppell, Texas.
The 40-year-old company recently introduced Popware for Pets, a line of collapsible rubber bowls for home or travel.
"This was a natural cross-over," said John Hollingsworth who developed the company's space saving pet products. Dexas has long manufactured collapsible measuring cups, colanders and funnels.
The Popware for Pets line includes turquoise and pink bowls that fit into a chocolate brown stand — a color scheme that's hot in both the housewares and pet industries, he said. When not in use, the dishwasher safe unit flattens to 1.5 inches.
For pups on the go, the company's lightweight travel bowl easily clips to a collar or leash. It holds two cups of water and collapses to a slender quarter of an inch.
Soft or firm?
Serta mattress is banking on brand image to sell dog beds, which were introduced for the first time last month at a pet industry trade show. The recycled polyester filled beds, made in the United States, feature removable covers for easy washing.
"The consumer has confidence in Serta for their own sleep," said Randy Spence, president of nVision Marketing in North Carolina, which heads production and sales of the dog beds. "And they certainly want that for their animals as well."
Work is already under way to add to the line by incorporating features normally found in specialty mattresses, such as memory foam and orthopedic support.
Those human-grade dog beds will hit store shelves later this year, he said, with a price tag of around $200.
Vote For Your Favorite Pet
What's the Most Popular Pet?
Vote: The Cutest Baby Animal
Stay up to date on the latest science news by signing up for our Essentials newsletter.