Amateur Cryptographers Decode Mysterious Subway Message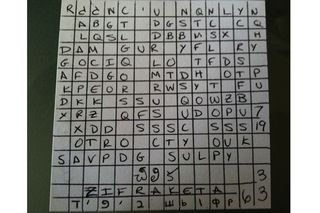 (Image credit: Reddit / delverofsecrets)
It sounds like a plot from a bad spy novel: a mysterious person hands an ordinary subway rider a note and a $50 bill and then disappears into the crowd. The note is a coded message. But the subway rider is no spy or secret agent. So how to decode it?
Enlist Reddit readers, that's how. The ordinary man, Reddit user "delverofsecrets," told his fellow Reddit friends via a post that he got a note and a $50 bill from a "raggedy-looking man" on the subway. The note was a grid of letters (pictured above) on the front. On the back, it contained two rows of letters that read: GNITSERALPODZYX and WVUQMKJHFCB. Some of the letters were in Hebrew and Russian. (The Russian ones spelled out "shyfr," seemed similar to the word for "cipher" in that language, while the Hebrew spelled "bifid."
After seeing the note on Reddit, amateur cryptographers deduced that the note was written in a code called a bifid cipher. The two rows of letters on the back were the key.
So what does the message say? The first message said (as decoded by several Redditors):
"There's plenty more money to make figure this out and prepare to meet july 19 fifty sixth and sixth hot dog stand outside rue57 cafe ask for mister input."
After the Redditors decoded that message, though, delverofsecrets said another message came, also encrypted, that said:
"YOU HAVE MANAGED TO FIND THE MESSAGE WITH THE HELP OF FRIENDS. YOU CHANGED THE RULES NOW SO WILL I. JULY TWELVE FOUR PM. FIND THE BLUE JAY AT SIX AND A HALF AND FIFTY SIXTH AND TELL HIM YOU ARE THE LAST."
HOWSTUFFWORKS: How Code Breakers Work
The second message came from a Redditor called "hoboman" and other Redditors noted that the username led to an IP address at a military base in Arizona -– one that specializes in intelligence training
Bifid ciphers were invented around the turn of the 20th century. To make one it's only necessary to make a grid of the alphabet (usually it's 5x5 in English, with the I and J combined). Each letter is represented by a two-number coordinate. So, for instance, "A" would be 11, and "B" would be 21 (assuming you put the column first). The letters of the message are written in a line with the coordinates put below them vertically, like this:
Y O U R C O V E R I S B L O W N
4 4 5 2 3 4 1 5 2 4 3 2 1 4 2 3 5 3 4 4 1 3 5 1 4 2 4 1 3 3 5 3
The numbers are written out in a row, and paired: 44 52 34 15 24 32 14 23 53 44 13 51 42 41 33 53
Each pair is a new letter as per the original square: T K S E I/J H Q M P T… and so on.
To make it harder to crack some people might shift the letters, subsituting a letter for another a certain number of steps down the alphabet (such as putting G in place of A, a seven-step shift) or arrange them randomly in the square.
PHOTOS: Cryptic Codes Yet To Be Cracked
Such a coding scheme isn't all that sophisticated by modern standards and it seems odd that anyone connected with the Department of Defense would approach anyone like this. But that's what makes this kind of puzzle as much fun as it is.
Reddit is rife with speculation in the comments about what this could be -– everything from a job offer from a mysterious company to a marketing scheme.
Only time (and a meeting on a New York street) will tell. Stay tuned.
UPDATE 7/12/12 6 p.m.: At the corner of Six and a Half and 56th street (the avenue is a pedestrian walkway) a crowd of perhaps two hundred gathered. Some were following the Reddit thread in real-time, and the original poster, delverofsecrets, said he would be arriving, even though he was nearly an hour late.
Delverofsecrets turned out to be Ali, who declined to give his last name (although some enterprising Redditors could probably dig it up). He showed the note, proving it was in fact him, and repeated the story of the man handing him the note and the $50 bill on the subway. Asked about the meeting today, he said he didn't know about that either. "It might be a friend of mine trying to mess with me," he said.
Ali added that he didn't expect that many people to show up. "I thought maybe 10 people might be here." As to why he arrived closer to 5 p.m. than four, "I'm just chronically late."
Nobody ever solved the mystery of "Bue Jay." A man dressed in blue, who was raggedy-looking, did appear near the corner at just after 4 p.m. After being briefly mobbed, though, it seemed he wasn't the right person, "Mr. Input."
As for the meeting next week, Ali said he plans to be there, though he might be away as his family plans a vacation then. ("My parents surprised me," he said).
What about all the attention? "Well, I hope I don't become a meme."
This story was provided by Discovery News.
Stay up to date on the latest science news by signing up for our Essentials newsletter.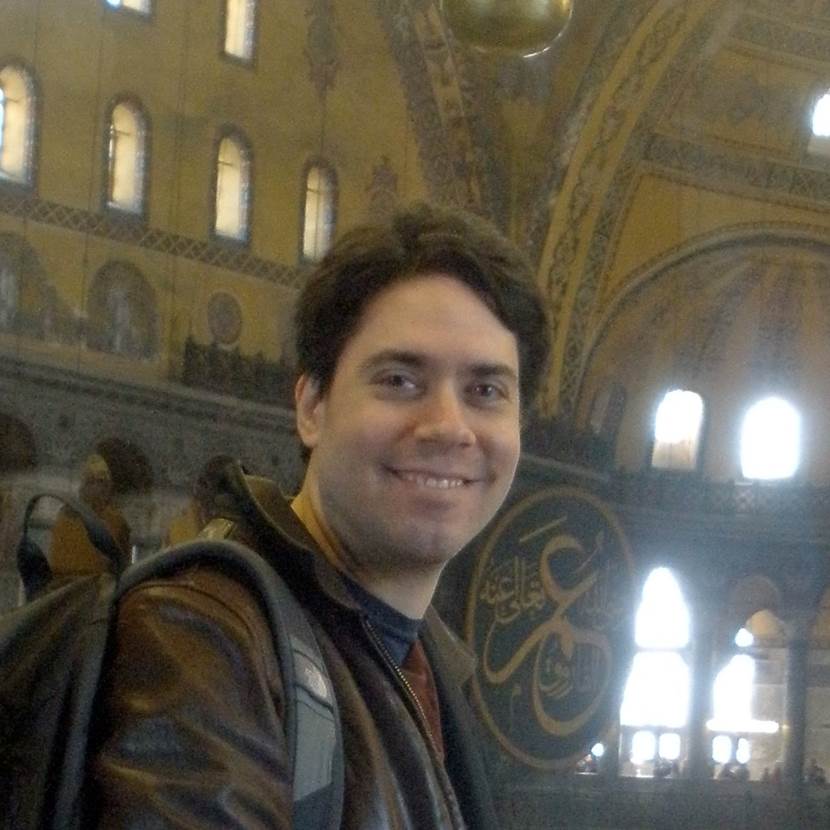 Jesse Emspak is a contributing writer for Live Science, Space.com and Toms Guide. He focuses on physics, human health and general science. Jesse has a Master of Arts from the University of California, Berkeley School of Journalism, and a Bachelor of Arts from the University of Rochester. Jesse spent years covering finance and cut his teeth at local newspapers, working local politics and police beats. Jesse likes to stay active and holds a third degree black belt in Karate, which just means he now knows how much he has to learn.