Why a Meal Can Spark Romantic Jealousy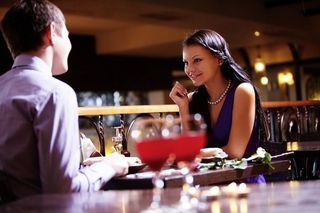 (Image credit: <a href="http://www.shutterstock.com/gallery-91282p1.html"> Dmitriy Shironosov</a>, <a href="http://www.shutterstock.com/index-in.mhtml">Shutterstock</a>)
Sharing a meal with a past romantic partner can mean more than just consuming calories at the same time, according to researchers, whose surveys revealed the pangs of jealousy that eating with an ex could elicit in people's current partners.
The researchers found that meeting an ex for a meal had the potential to prompt more jealousy than did face-to-face interactions not involving food — in this study, these types of meet-ups were represented by getting coffee. The effect was similar for both men and women.
"For romantic partners left out of a meal, we find a common view that lunch, for example, is not 'just lunch,'" write researchers Kevin Kniffin and Brian Wansink of Cornell University.
The physicaleffects of food consumption, such as weight gain, are frequently studied, however, relatively little attention has been paid to the effect of food on social behavior, they write in research published in the journal PLoS ONE today (July 11).
Kniffin and Wansink surveyed 79 undergraduates, asking them how they would feel if their romantic partners participated in a variety of activities with an ex for an hour, including corresponding by email, talking on the phone, getting coffee or a meal at different times of the day. They asked members of a second group of 74 undergraduates how their "best same-sex friend" would respond if his or her romantic partner engaged in these activities with an ex.
Email correspondence was ranked as the least threatening interaction, with talking on the phone and getting coffee falling behind meals in jealousy-provoking potential. Dinner ranked higher on the jealousy scale than did lunch, as did late-afternoon coffee when compared with late-morning coffee.
"Most generally, our current findings contribute to growing interest concerning the influence of foodupon individual and social behavior" the duo writes.
Follow Wynne Parry on Twitter @Wynne_Parry orLiveScience @livescience. We're also on Facebook & Google+.
Stay up to date on the latest science news by signing up for our Essentials newsletter.
Wynne was a reporter at The Stamford Advocate. She has interned at Discover magazine and has freelanced for The New York Times and Scientific American's web site. She has a masters in journalism from Columbia University and a bachelor's degree in biology from the University of Utah.