Women and Children First? Not Since the Titanic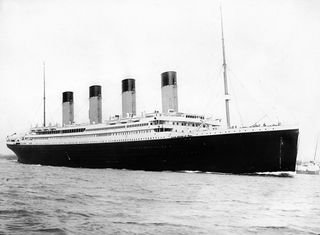 (Image credit: F.G.O. Stuart (1843-1923))
The chivalrous code "women and children first" appears to have sunk with the Titanic 100 years ago.
Long believed to be the golden standard of conduct in a shipwreck, the noble edict is in fact "a myth that has been nourished by the Titanic disaster," economist Mikael Elinder of Uppsala University, Sweden, told Discovery News.
PHOTOS: Titanic Treasures On Auction
Elinder and colleague Oscar Erixson analyzed a database of 18 peace-time shipwrecks over the period 1852–2011 in a new study into survival advantages at sea disasters.
Looking at the fate of over 15,000 people of more than 30 nationalities, the researchers found that more women and children die than men in maritime disasters, while captains and crew have a greater chance of survival than any passengers.
Being a woman was an advantage on only two ships: on the Birkenhead in 1852 and on the Titanic in 1912.
Indeed, it was the sinking of the troopship HMS Birkenhead off the coast of South Africa in 1852 that inspired the tradition of "women and children first."
The story goes that the soldiers' commanding officer, Lieutenant-Colonel Alexander Seton, ordered his men to help get the women and children on board the three lifeboats as the Birkenhead began sinking in shark-infested waters. Not a single woman or child lost their life, thanks to the soldiers who stoically stood on deck as the ship went down.
Going down in maritime history as the Birkenhead Drill -- women and children first -- their sacrifice deeply influenced the behavior on the Titanic.
When the luxury liner sank in the North Atlantic on April 14, 1912, the captain E.J. Smith admonished the men to "Be British," letting women and children leave first.
In the best romantic tradition, he did go down with his ship. Overall, 1,496 of the 2,208 people aboard died as the 46,000-ton vessel plunged to a depth of 12,400 feet.
"Women had a quite remarkable survival advantage over men, 73.3 percent compared to 20.7 percent. First class passengers had ha survival rate of 62 percent, second class 41.8 percent and third class 25.4 percent. Children had a higher survival rate than adults," Elinder and Erixson wrote in a paper titled "Every man for himself!" published by the Research Institute of Industrial Economics.
It was the last time that women benefited from the Birkenhead tradition.
Continuing their investigation, Elinder and Erixson found that women had a lower chance of survival in 11 out of 18 shipwrecks. Women fared worse also in recent times, during the sinking of the Russian river cruise MV Bulgaria in 2011. They had a survival rate of 26.9 percent, opposed to 60.3 percent of men.
Overall, children appear to have the lowest survival rate.
"Women and children first was a very patchy, uneven goal in 19th and 20th century shipwrecks. It had strong class, nationality and ethnicity elements, which meant that 'ladies first' was more often practiced," Lucy Delap, fellow and director of studies in history at the University of Cambridge, UK, told Discovery News.
Delap, who was not involved in the research, noticed that the migrants and pilgrims of low socio-economic status who traveled by ship were very often not given the dignity of being divided into men and women.
"They were simply regarded as mobs, crowds or 'cargo.' You very rarely had women and children of this class and racial background being given precedence in shipwrecks," she said.
Elinder and Erixson also found that the crew and the captain had the best odds of survival on average -- a rule confirmed by the recent Costa Concordia disaster.
"Only seven out of 16 captains went down with their ship," said Elinder
NEWS: Wireless Could Have Saved Passengers on Titanic
The study dismissed previous theories according to which selfish behavior dominated on fast sinking ships, while socially determined behavioral patterns were more likely to re-emerge on slowly sinking vessels.
"We found that women have a disadvantage independently of whether the ship sinks quickly or slowly," the researchers said.
What really seems to matter is the behavior of the captain, who has the power to enforce normative behavior.
"His policy, rather than the moral sentiments of men, determines if women are given preferential treatment in shipwrecks. This suggests an important role for leaders in disasters," the researchers wrote.
Indeed, the "women and children first" order was given for only five times out of 18 sinkings.
Also, women would have been better off if they had avoided British ships. In contrasts with the notion of British men being more gallant than men of other nationalities, women fared worse in shipwrecks involving Union Jack ships.
"Based on our analysis, it becomes evident that the sinking of the Titanic was exceptional in many ways and that what happened on the Titanic seems to have spurred misconceptions about human behavior in disasters," Elinder and Erixson concluded.
This article was provided by Discovery News.
Stay up to date on the latest science news by signing up for our Essentials newsletter.