Round-the-World Flight Delayed Again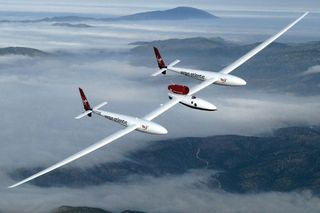 (Image credit: Virgin Atlantic)
The goal to set an aviation world record for the first solo, non-stop, non-refueled circumnavigation of the globe will have to wait a bit longer.
A hoped-for liftoff this month of Virgin Atlantic's GlobalFlyer aircraft has now been pushed off into March.
The plane is set to depart from a Salina, Kansas airport. But the latest long-range weather forecast there shows unacceptable ground winds and turbulence during the aircraft's ascent. Both present significant risks.
"What a disappointment," said adventurer Steve Fossett, GlobalFlyer's pilot. "As eager as I am to start this flight, everything must be right."
Once in the sky, the Virgin Atlantic GlobalFlyer is capable of speeds of more than 285 mph (250 knots). The around-the-world flight should be completed inside 80 hours. The route will begin from the Salina airfield and then follow the jet stream winds across the Atlantic to the United Kingdom.
From there, Fossett will head Southeast across the Mediterranean and the Gulf region before turning east towards Pakistan, India, China and Japan. The final leg of the journey will take the plane out over the Pacific towards Hawaii before crossing the West Coast of the United States and returning to the Kansas launch site.
The next weather window for the attempt could be in the March 1-3 time period, according to project officials.
Stay up to date on the latest science news by signing up for our Essentials newsletter.