For the 4th Time: I'm Not Pregnant!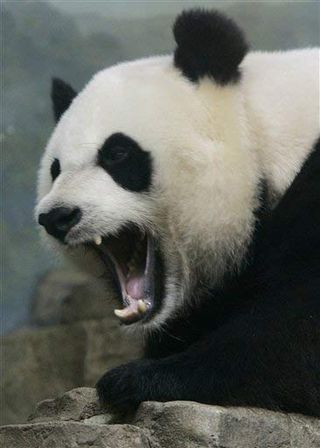 WASHINGTON (AP)—The National Zoo won't be hearing oohs and aahs over a new panda cub this year. Zoo officials said Friday that the giant panda Mei Xiang isn't pregnant after all.
Her hormone levels had soared after she was artificially inseminated, then dropped last week, signaling a cub could be born. But an ultrasound showed no fetus, and zoo officials determined she wasn't pregnant. False pregnancies are common in pandas, and Mei Xiang has had four.
Her only cub, Tai Shan, turns 2 on Monday. He lives in a separate enclosure from his mother and is popular with zoo visitors.
Mei Xiang had been inseminated with semen from a panda at the San Diego Zoo. The National Zoo said scientists will consider whether Mei Xiang should be considered for breeding in 2008.
Only about 1,600 giant pandas remain in the wild, and fewer than 180 live in captivity.
Stay up to date on the latest science news by signing up for our Essentials newsletter.