Want to Get Healthy? Try Switching to 'Right' Fats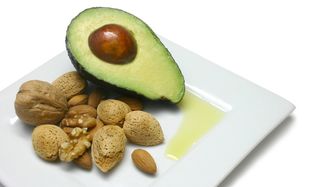 While the recommendation to remove fat from your diet was standard medical advice for years, a new review of published studies shows that changing the types of fats you eat will bring better results. The study from researchers at Norwich Medical School in the U.K. looked at 48 studies spanning nearly half a century, and compared the health benefits of low-fat diets, in which saturated fats were replaced with carbohydrates, to the health benefits of what researchers call modified-fat diets, in which saturated fats are replaced with unsaturated fats, such as fish and vegetable oils. "There are no clear health benefits of reducing the total amount of fat we eat when we replace the saturated fats with starchy foods," said study author Lee Hooper, a senior lecturer in research synthesis and nutrition at Norwich, in a podcast accompanying the study release. "But modifying the fat in our food, by replacing some of the saturated or animal fats with plant oils and unsaturated spreads, may reduce the risk of heart and vascular disease." The researchers found that when all the studies were taken together, people who reduced or modified their fat consumption had a 14 percent reduction in strokes and heart attacks. But when they further looked into the numbers, they found the impact all seemed to be from substituting saturated fats with unsaturated ones. Simply reducing fat intake, by substituting fats with carbohydrates, didn't have a significant impact. The analysis was published this month in the Cochrane Collaboration, a journal in which the results of previous studies are looked at together to give physicians and health care professionals guidance in clinical practice. In 2001, Hooper's group concluded a similar analysis of 27 studies and concluded that overall dietary fat should be reduced, and some saturated fat remaining in the diet should be replaced by unsaturated fat. The new study's conclusions place greater emphasis on replacing saturated fats with unsaturated ones, while noting that it is unclear which particular unsaturated fats would be best. The researchers also said that it is unclear whether adding specific unsaturated fats would be beneficial to reducing heart risk.
In explaining the better results of modified-fat diets, Hooper said "This could be due to a low-fat diet being harder to maintain, and so less effective," but this could not be shown the data.
She also said that the benefits were not demonstrated as strongly for women as they were for men.
"The data suggest we would all benefit, to some extent, by replacing saturated fats with other fats...for at least two years, but not by moving to a lower fat diet," Hooper said. "The difficulty is the data are unclear for women." She explained that there were no studies lasting longer than two years that reported results with regard to heart disease for women, as there had been for men.
Some studies have left questions about the nature of the connection between heart disease and saturated fat consumption. The link has typically been made because saturated fat has been linked to higher levels of LDL ("bad") cholesterol, which in turn has been linked to heart disease. But studies have failed to show a concrete, direct connection. Following one such study last year published in the American Journal of Clinical Nutrition, researchers with the Children's Hospital Oakland Research Institute wrote that while removing saturated fat from the diet had not been a winning strategy in fighting heart disease, "substitution of dietary polyunsaturated fat for saturated fat has been shown to lower [cardiovascular disease] risk."
This story was provided by MyHealthNewsDaily, sister site to Live Science. Follow MyHealthNewsDaily on Twitter @MyHealth_MHND.
Stay up to date on the latest science news by signing up for our Essentials newsletter.
Joe Brownstein is a contributing writer to Live Science, where he covers medicine, biology and technology topics. He has a Master of Science and Medical Journalism from Boston University and a Bachelor of Arts in creative writing and natural sciences from Johns Hopkins University.