Ovarian Cancer Screening Tests Don't Reduce Deaths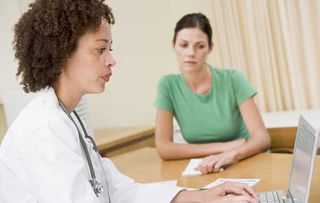 (Image credit: Dreamstime)
While cancer screening has long been promoted as a sensible thing to do, a new study of ovarian cancer is the latest showing that cancer screening can have a significant downside.
The 16-year study of 78,000 women showed that screening did not reduce the number of deaths from ovarian cancer. But it did lead to unnecessary treatments for false-positive cases.
The study comes from the National Cancer Institute (NCI) and other institutions and was presented at the American Society of Clinical Oncology meeting in Chicago on Saturday. The women in the study were aged 55 to 74 and at moderate risk for ovarian cancer. Half were randomly assigned to annual screening, and half assigned to not have it.
"We did not see that [annual screening] reduced the risk of dying from ovarian cancer — we were unable to detect ovarian cancers any earlier than the women who did not get the screening," said study author Dr. Christine Berg, chief of the Early Detection Research Group at the NCI.
In the study, 3,285 women had false-positive screenings. Of those, 1,080 underwent surgeries, and 15 percent of them had at least one complication as a result.
Several studies published over the past few years have shown a lack of benefit and some increased risks from aggressively screening for breast and prostate cancer in certain lower-risk populations, leading some to reject the mantra that more screening is always better.
However, ovarian cancer is typically a fast-growing cancer, and so experts said it is not immediately clear what direction screening recommendations will take after this study. Current screening protocols include ultrasound testing and measuring the levels of a protein called CA125 in the blood.
"The transition from a normal ovary to an invasive cancer may be less than a year," said Dr. Joseph A. Lucci, a professor and director of gynecologic oncology at the University of Miami Sylvester Comprehensive Cancer Center. "The concern is that the very early precancerous changes may be very difficult to detect with either the ultrasound or the CA125."
Lucci said a lack of knowledge about how ovarian cancer develops is also a hindrance.
"We never figured out what the precancerous change is," he said. "We know normal and we know cancer. We haven't figured out that change in the middle, or at least how to detect that change."
Lucci said that a key for detection now is establishing a baseline CA125 level for an individual woman. Changes in that level, rather than finding a single "high" level, should dictate treatment. It also remains to be seen, he said, how often women — particularly those at high-risk for ovarian cancer — need to be screened.
A key to the future of ovarian cancer screening is a study now underway in the United Kingdom, the UK Collaborative Trial of Ovarian Cancer Screening (UKCTOCS), in which women are stratified based on their risk for the disease. Women may come in more or less frequently for screenings, and some receive multiple CA125 screenings before having the ultrasound.
"That study will help us determine if doing it once a year is going to be effective at helping us pick it up early stage," said Dr. Karen Lu, a professor in the department of gynecologic oncology at the University of Texas M.D. Anderson Cancer Center.
Lu said the U.K. trial is important because it is testing a modified screening process, where women have CA125 levels tested and compared to their personal baseline. Only those whose tests show cause for concern would have an ultrasound.
"A two step method may help in both increasing screening sensitivity and decreasing false positives," Lu said. "On the heels of this, in about three years, we will have the mortality results from that study and the two-step method."
All three doctors agreed that concerns over ovarian and other cancers speak to the need for a patient and doctor to develop a long-term relationship to be better aware of the patient's risk factors. Some of those include a family history of ovarian cancer, past contraceptive use and a history of breast cancer.
For women concerned about their risk of ovarian cancer, Berg said, "Those women need to speak with their physicians, consider genetic testing...and get involved in studies that are looking at those specific individuals. I think a promising arena in the future is going to be whole genome sequencing and identifying other risk groups."
"I think it's a time where we've got many breakthroughs in genetic sequencing," Berg said. "I'm optimistic if we study them well, we'll find new avenues to help us detect ovarian cancer early."
The NCI study is part of the The Prostate, Lung, Colorectal and Ovarian (PLCO) Cancer Screening Randomized Controlled Trial, designed to measure the impact of screenings. In addition to the presentation, the study will be appearing in the upcoming issue (June 8) of the Journal of the American Medical Association.
This story was provided by MyHealthNewsDaily, sister site to LiveScience. Follow MyHealthNewsDaily on Twitter @MyHealth_MHND.
Stay up to date on the latest science news by signing up for our Essentials newsletter.
Joe Brownstein is a contributing writer to Live Science, where he covers medicine, biology and technology topics. He has a Master of Science and Medical Journalism from Boston University and a Bachelor of Arts in creative writing and natural sciences from Johns Hopkins University.