A History of First-Class Stamp Blunders and Hikes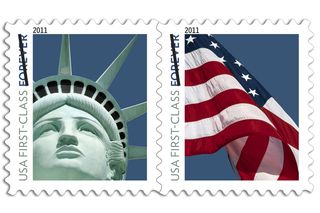 (Image credit: U.S. Postal Service)
The U.S. Postal Service can make mistakes other than delivering your mail to your neighbor. On April 14, the USPS acknowledged that the new 2011 "Forever" stamp featuring the Statue of Liberty doesn't show the Lady Liberty that resides in New York Harbor, but rather the smaller replica that greets gamblers at the New York-New York Hotel & Casino in Las Vegas.
The mix-up came to light when a stamp collector noticed that the face on the new stamp looked slightly different from the genuine statue. He contacted a stamp magazine, which ran an article pointing out the differences. The postal service recognized the goof but stated it will go forward with the current design nonetheless.
Is this the first time the postal service has slipped up one of its stamps? Nope. Read on for the details, as well as some stamp history and whether scooping up "Forever" stamps now is a good long-term investment.
When were stamps invented?
In 1837, an inventor in Great Britain named Sir Rowland Hill proposed using adhesive labels with preprinted postage for paying a uniform rate to send mail anywhere in the British Isles. Previously, the cost of sending a letter was set by how far it had to travel, sort of like a taxi's meter. On May 6, 1840, the first stamp to be used in a public postal system was born. Featuring a profile drawing of 15-year-old Princess Victoria of London, it was printed in black ink and cost one penny, earning it the nickname of the "Penny Black" stamp.
When did the United States adopt stamps?
When the U.S. first issued stamps in 1847, two versions were available. There was a 5-cent Benjamin Franklin stamp — in addition to his other accomplishments, Franklin was the first postmaster general — that would send a letter weighing less than one ounce 300 miles. The other stamp was a 10-center picturing George Washington and intended for deliveries beyond 300 miles, or for items heavier than one ounce.
Five- and 10-cent stamps? Sounds like a great deal!
Actually, they weren't — at least by today's standards. Using Consumer Pricing Index conversion factors published by Oregon State University to adjust for inflation, the Franklin stamp would have cost $1.32 in today's money; the Washington stamp would have cost $2.63.
What were the famous stamp goof-ups?
One of America's most famous postage stamp errors is known as the Inverted Jenny. Issued on May 10, 1918, the red and blue stamp accidentally shows a Curtiss JN-4 ("Jenny") biplane — the model used by the USPS to deliver mail at the time — flying upside down. The mistake occurred because each sheet of the 24-cent stamps was printed in two colors, and so had to be fed through the printing press twice — once for red, once for blue. A few of the sheets were inserted in the wrong direction for the second pass, and so the blue plane appeared upside down inside the red frame. Nearly all of these stamps were destroyed, but the few that still exist fetch hundreds of thousands of dollars in auctions. [Click here to see the Inverted Jenny]
A more recent blunder is the 1999 stamp that read, "Grand Canyon, Colorado." The error was quickly caught and corrected, relocating the landmark to Arizona. The erroneous stamps were destroyed and none were sold, although the public did get a glimpse of an advance publicity image. Unfortunately, even the corrected stamp was flawed — the photograph of the canyon had been accidentally reversed. Instead of getting rid of the stamps and reprinting all over again, the USPS decided to sell them as is.
Has the cost of postage always been on the rise?
It sure seems like it, but way back in 1851, just a few years after stamps were introduced, the Postal Service ran so efficiently that Congress decided to roll back the 5-cent common mailing rate to 3 cents. That rate held for more than 30 years.
Is it worthwhile to purchase a bunch of 44-cent "Forever" stamps now and hold onto them for use down the road?
In general, unless you're talking Inverted Jennys, hoarding Forever stamps is not a wise way to invest your money. The reason is simple: Per the 2006 Postal Accountability and Enhancement Act, the price hikes of first-class stamps must be less than the actual inflation rate (although this trend had already been in effect since about 1971). In general, if you buy a stamp today and wait a decade to stick it to a letter, you'll actually be paying more than if you just bought a new stamp.
To illustrate, consider a 29-cent first-class stamp from 1991. That stamp would cost 46 cents today, more than a current "Forever" stamp.
Now, there are a couple of instances when it might be good to stock up on stamps. A loophole in the Postal Accountability and Enhancement Act allows the Postal Service to increase rates above inflation in exceptional circumstances when the not-for-profit service is threatened financially. The other time to scoop up a bunch of stamps — and this is the one you should pay attention to — is just before a rate hike. Of course, you'll need to use the stamps within a year or so before your investment starts turning south.
This article was provided by Life's Little Mysteries, a sister site to LiveScience.com. Follow Remy Melina on Twitter @RemyMelina
Stay up to date on the latest science news by signing up for our Essentials newsletter.
Remy Melina was a staff writer for Live Science from 2010 to 2012. She holds a bachelor's degree in Communication from Hofstra University where she graduated with honors.