China Leads U.S. in Clean Energy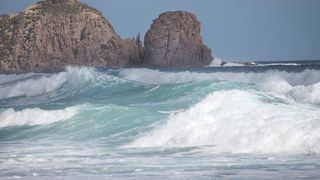 WASHINGTON – China's huge push for clean energy technologies has left the U.S. scrambling to catch up, but homegrown energy innovations could help the U.S. boost its own economic and national security.
The energy challenge for the U.S. was detailed during a series of speeches at the ARPA-E Energy Innovation Summit here today (March 1). China has aimed to get 18 percent of its energy from renewable sources such as solar and wind by 2020, and has broken ground on 25 nuclear reactors out of more than 60 new nuclear power plants worldwide.
But the U.S. has not been idle. President Barack Obama urged the country toward its goal of getting 80 percent of its electricity from so-called clean energy sources, including renewables, nuclear energy and perhaps clean coal. The U.S. currently gets 40 percent of its energy from such sources, said Steven Chu, U.S. Secretary of Energy, during his speech at the summit.
"Our national security is dependent on our energy security," Chu said. "Energy created at home is wealth creation at home."
Besides clean energy, Chu highlighted China's lead in building 5,612 miles of high-speed rail where trains travel over 100 mph, compared with Japan's 1,500 miles and France's 1,100 miles. By contrast, the U.S. is struggling to build its first dedicated high-speed rail corridors.
The U.S. does still hold an overwhelming worldwide lead in terms of private investment in clean energy by venture capital firms. But entrepreneurs and private investors have urged more U.S. government involvement.
China's government has invested $800 billion in clean energy technologies alone. That rivals the size of the recent U.S. economic stimulus package, said Sen. Mark Udall (D-Colo.), during his ARPA-E summit speech.
But Udall praised the efforts of ARPA-E, the agency spinoff from the U.S. Department of Energy which funds huge energy innovations. He pointed out how six projects that received just $24 million from ARPA-E led to more than $100 million in private investment – a great payoff for taxpayer dollars.
"You're a model of efficiency," Udall told the ARPA-E employees in the audience. "That's government at its best."
The ARPA-E (Advanced Research Projects Agency-Energy) summit runs through March 2.
This story was provided by InnovationNewsDaily, a sister site to LiveScience.
Stay up to date on the latest science news by signing up for our Essentials newsletter.
Jeremy has written for publications such as Popular Science, Scientific American Mind and Reader's Digest Asia. He obtained his masters degree in science journalism from New York University, and completed his undergraduate education in the history and sociology of science at the University of Pennsylvania.