Bee Shortage Could Lead to 'Agriculture Crisis'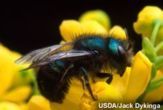 RALEIGH, N.C. (AP) -- North Carolina is trying to boost the buzz surrounding the state's crops. As farmers leave tobacco and move into new crops like cucumbers, melons, and berries, the state is confronting a crisis: it simply doesn't have enough honeybees to pollinate all those flowering plants.
"I feel that if we don't do something now about (this) we may be heading toward an agriculture crisis in the state,'' said David Tarpy, the state's cooperative extension apiculturist and assistant professor at North Carolina State University.
In the late 1980s, the state had some 180,000 managed bee colonies, each of which contained at least 30,000 bees. Now, there are about 100,000 such colonies, and the state's beekeepers last year had to turn down requests for some 10,000 new colonies.
The bees are needed because without their flower-to-flower flights, farmers can't get the maximum yield from crops like cucumbers, apples, blueberries and melons, which now account for $100 million every year, according to state agriculture officials.
As bees visit flowers to collect nectar and pollen, they transfer pollen grains from one flower to another, fertilizing them and boosting seed and fruit production.
Wilson County farmer Bill Harrell is gradually moving out of tobacco, which doesn't need pollination to produce, and into cucumbers, melons and other crops.
At one time, the farm that his grandfather bought during the Depression had roughly 85 acres of leaf under cultivation. Last year, Harrell grew just 38 acres of tobacco. And this year, he's planting 100 acres of cucumbers and some 60 acres of melons.
Six years ago, he said, he could find plenty of bees to pollinate his flowering crops. These days, though, there's a bee shortage.
"Now there just ain't enough to go around,'' Harrell said. "(Without) the bees to help us pollinate you're up against the wall.''
Twenty years ago the state had a healthy population of wild bees, but they have been ravaged by mites. Farmers now rely on a dozen or so commercial beekeepers to pollinate their crops.
But most of those beekeepers are at least 60 years old and, like Chapel Hill's Jack Tapp, got into the business as a second career.
Tapp, a retired sheriff's detective and Army veteran, has run Busy Bee Apiaries since 1998. That was 12 years after he started keeping bees for a hobby.
Tapp warns that startup costs are high and the payoff delayed in the bee business.
"You'll spend $200,000 with no forecast of making any profit for the next two or three years, so you're not going to get many people jumping into it,'' he said.
North Carolina State University hopes that a cost-share program it is starting will lure more people into the hobby, laying the groundwork for an eventual increase in commercial beekeeping.
The school is providing 250 qualified applicants with two hives of Russian honey bees and bee hives. Participants will have to invest $50 to $150 for beekeeper protective clothing, smokers, and additional hive equipment. The program will help put the newcomer in touch with nearby mentors.
The one-year program is being funded with a $164,000 grant from the Golden LEAF Foundation, which administers money received by North Carolina from its settlement with cigarette manufacturers.
Tarpy said applicants from traditional tobacco-growing areas will get priority for funding.
The application deadline isn't until Feb. 11, but Tarpy says he's already received about 600 applications. And organizers of annual introductory classes on beekeeping are reporting that their enrollment has doubled and tripled since the N.C. State program was announced.
Tapp believes the money being spent to boost the hobby would be better spent funding newcomers who want to pursue commercial beekeeping from the start.
As currently structured, Tapp said, the program "will support more interest in beekeeping, getting bees out there for gardens and stuff. As for farmers switching to produce crops from the tobacco industry, it's not going to help them.''
Tarpy said Golden LEAF did not feel underwriting commercial operations fit its mission.
Instead, the organization hopes to bring new people into the hobby and that they decide to master other aspects of bee cultivation, including breeding and production of honey, pollen and beeswax. All together, those activites generate $10 million annually for the state's economy.
And it's possible that some hobbyists could decide to take the plunge and join the bee business full time.
"We hope that of these 250 new beekeepers, some will take it seriously and expand to the point where they may start doing it commercially,'' Tarpy said.
Stay up to date on the latest science news by signing up for our Essentials newsletter.