Diaries of a 19th Century Military Wife Uncovered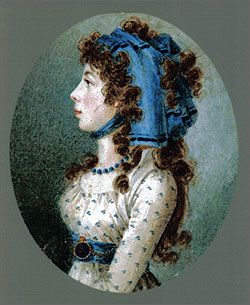 (Image credit: Bath Spa University)
Modern military wives typically don't ship out alongside their husbands, but the young wife of a British naval officer did just that during the Napoleonic Wars of the 19th century. Now a historian who tracked down 40 unpublished volumes of her diaries has gotten the go-ahead to write a book investigating her life.
Elizabeth "Betsey" Wynne accompanied her husband aboard his warship during a disastrous British assault on the Spanish Canary Islands. She spent the voyage home-nursing the wounded Rear-Admiral Horatio Nelson, whom lost his right arm during the attack and would go on to become one of England's greatest military heroes of all time.
Nelson later foiled Napoleon's master plan to invade England when he led a British fleet to victory over a combined French-Spanish fleet at the Battle of Trafalgar in 1805, but at the cost of his own life.
Wynne ended up outliving both Nelson and her husband, Captain Thomas Francis Fremantle, as she witnessed an era stretching from the French Revolution to the rise of Victorian England. Her diaries should reveal a treasure trove of historical details, said Elaine Chalus, a historian at Bath Spa University in England.
"They'll give a richer sense of the cosmopolitanism and culture of the generation that spanned this incredible period of change," Chalus explained.
The diaries also contain social and personal aspects of the British Navy, given Wynne's early introduction to that world. Chalus pointed to how Fremantle brought a harpsichord aboard his ship for Wynne to play, and added that Wynne would have attended the aboard-ship dinners that brought captains together from all across the fleet.
Chalus recently received more than $154,000 (100,000 British pounds) from the British Academy to look into the diaries she uncovered several years ago.
Discovering the diaries
From what Chalus has so far learned, Wynne began writing her diaries at age 11 in 1789 – just weeks after the French Revolution had begun shaking Europe. She kept up her journaling until she died in 1857.
Her early diary entries told of living with her family in Switzerland along with one of King Louis XVI's leading political agents and other French émigrés who fled the turmoil in France. The Wynne family later fled before Napoleon's conquest of central Europe and ended up at the Italian port city of Livorno, where they found refuge with the British navy.
The family happened to board the ship captained by Fremantle. He and then 18-year-old Betsey Wynne experienced a whirlwind romance, which would eventually lead to marriage and a house in Buckinghamshire, about a 50-minute drive outside of London today.
Wynne's diaries have remained at the Cottesloe (Fremantle) family estate for all this time, although a family member published some extracts from the earlier volumes just before World War II. They remained out of the public eye until Chalus tracked them down.
"The diaries that were published in 1935 are well-done," Chalus told LiveScience. "But they are extracts and not everything."
The Cottesloe family has granted Chalus unrestricted access to the journals and family archive, so that the historian can detail the life of both Betsey Wynne and her descendants.
Military wives of the era
Wynne's journeys aboard her husband's warship as a young and, for some time, pregnant wife may sound odd today. But many British navy ships carried the wives or mistresses of tradesmen, and even the captains' wives.
The historically based novel "Persuasion" by Jane Austen included a lead character who marries a navy captain. Other minor characters include an admiral and his wife who had traveled together aboard ship – a detail Austen would have known, given that two of her brothers served with the navy during the Napoleonic Wars.
But Betsey Wynne's relationship to Fremantle still shares similarities to those of modern military families. Wynne handled the household during times when she stayed home and her husband was at sea.
"In the later years, Fremantle more or less turns everything over to her," Chalus said. "It's a testimony to a working partnership, and I think modern military families today are the same."
Stay up to date on the latest science news by signing up for our Essentials newsletter.
Jeremy has written for publications such as Popular Science, Scientific American Mind and Reader's Digest Asia. He obtained his masters degree in science journalism from New York University, and completed his undergraduate education in the history and sociology of science at the University of Pennsylvania.