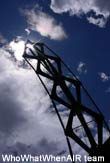 If you hang out in front of the student center of the Massachusetts Institute of Technology campus during the next few days, you might see a towering, green structure swishing to-and-fro like a giant stalk of grass in the wind.
Don't worry: It's supposed to do that.
What you'd see is the winner of a mini-skyscraper design contest sponsored by the school's architecture department. The design could be a hint of things to come as architects and engineers take inspiration from nature and work to make buildings "smarter" and more organic. [VIDEO: See the skyscraper in action]
Called "WhoWhatWhenAIR," the four-story fiberglass sculpture was designed and built by four MIT graduate students with varied backgrounds in architecture, engineering, interactive art and computation.
"The idea was to build a structure that had the proportions of a skyscraper in front of the student center, so we proposed a moving one," said team member Philippe Block.
'Muscles'
By attaching inflatable tubes called "pneumatic actuators" to various points on the structure's frame, the team can make the structure lean up to 8 feet in any direction.
"It's not a subtle thing at all," said study team member Axel Kilian, who is now a postdoctoral fellow teaching at MIT.
The actuators function a lot like muscles: pressure from pumped air forces them—and anything they're attached to—to flex. When the muscles are not active, the sculpture's rigid core keeps the entire thing straight. The movements are controlled by remote control, but the team plans to use bicycle air pumps to introduce audience interaction in future exhibitions.
In addition to Block and Kilian, the team also included MIT graduate students Peter Schmitt and John Snavely.
From design to reality
When he first saw the team's design proposal, competition judge John Ochsendorf said he knew he had found his winner.
"Some of the other jurors were not sure, but those of us who knew the team members did not have doubts that they could do it," Ochsendorf said. "That confidence was crucial in awarding them the design."
About 10 teams, most from MIT and the Harvard Graduate School of Design, submitted designs for the competition but none of the other designs moved, Ochsendorf said.
After winning the contest, the WhoWhatWhenAIR team was awarded $7,000 to turn their design into reality. The money was used to build the sculpture's main structure; the actuators were donated by German company Festo, a maker of automation technology.
Some people "thought we were crazy," Block recalls. "We had mixed feelings when we won the competition because we knew it would be a heck of a challenge, which it was."
Besides having to guarantee their miniature skyscraper's safety, the team also had to make sure it could withstand Boston's gusty winds, satisfy city and campus guidelines and fit within the budget. The team ended up working about five hours a day, seven days a week for an entire semester to build their sculpture. The entire process is chronicled on the team's blog.
Cues from nature
Among the team's sources of inspiration were adaptable designs in nature and the ideas of Guy Nordenson, a structural engineer and architect at Princeton University who proposes constructing buildings that can respond and adapt to their environments.
Nordenson said he learned about the MIT sculpture from several sources and was delighted when he heard the news.
"I think it's a terrific success that the students were able to build this and a great inspiration for the rest of us," he told LiveScience. "Kudos all around."
Nordenson said he and colleagues attempted to build a similar structure in 1991 for the National Inventors Hall of Fame in Ohio but the project stalled due to lack of funding.
Why make a building move?
The MIT team said they incorporated movement because they wanted to spark the curiosity of their audience and encourage questions, namely: "Why would anyone want a building to move, adapt and respond?"
Moving buildings aren't exactly new. Many modern skyscrapers have devices called "tuned mass dampers" to counteract the movements created by buffeting winds or earthquakes. But these are usually passive devices designed to cancel or dissipate the single frequency that engineers calculate is most likely to wreak havoc on a building's structure, Block explained.
Also, such devices typically protect only selected portions of a building, most often the top since that's where the most movement will occur.
In contrast, active components like the pneumatic muscles on the MIT sculpture can potentially stiffen the entire length of a building, offering much more protection.
Ochsendorf can see one problem, however, with granting complex motion to buildings.
"People do not like their buildings to move around much," he points out. "The human body is very sensitive to changes in acceleration ... so I could imagine that such systems may be useful in the design of structures which are not inhabited, such as transmission towers."
WhoWhatWhenAIR will be on display at MIT for one more week, after which it will go on display at different venues, including one in Germany.
Stay up to date on the latest science news by signing up for our Essentials newsletter.