Cell Phone Users Make Polling More Difficult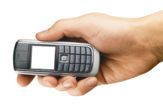 Telephone polling has long been a staple of political prognosticating and otherwise sampling the tastes and opinions of Americans on everything from evolution to hybrid vehicles to cell phone use.
But there is a growing potential problem pollsters must confront: More than 7 percent of U.S. residents rely entirely on cell phones and do not use landlines.
"This trend presents a challenge to public opinion polling, which typically relies on a random sample of the population of landline subscribers," according to a study released earlier this month by the Pew Research Center.
Cell-only folks tend to be younger, less affluent, less likely to own a home, and generally more politically liberal, the Pew survey found. For example, asked whether gay marriage should be allowed, 37 percent of the 700 landliners said yes, while 51 percent of 700 cell-only users agreed.
Still, the researchers conclude that, for now anyway, figuring in the cell-only crowd and then weighting the survey to take into account their relatively small numbers results in no more than a 1 percent difference in results on this and other key issues, such as presidential approval or whether the war in Iraq was the right decision.
But the number of cell-only users has roughly doubled since 2003 and is likely to continue growing. In the Pew survey, 23 percent of landline users said they are very or somewhat likely to go cell-only.
Among the difficulties involved in sampling cell phone users.
Federal law prohibits automated dialing to cell phones, so they have to be called manually.
Random cell phone calls reach many children who are ineligible for surveys.
Cell phone users are not necessarily at home—and could be at work—when a pollster calls.
There could be additional costs, too. Since they pay for airtime, many cell phone users might be more reluctant to stay on the line. Those who conducted the Pew survey offered mobile phone users $10 to participate. "Despite this inducement," the report states, "gaining cooperation from people on cell phones was notably more difficult than for those on a landline phone."
The Pew survey was done in conjunction with AOL and The Associated Press.
Stay up to date on the latest science news by signing up for our Essentials newsletter.
Robert is an independent health and science journalist and writer based in Phoenix, Arizona. He is a former editor-in-chief of Live Science with over 20 years of experience as a reporter and editor. He has worked on websites such as Space.com and Tom's Guide, and is a contributor on Medium, covering how we age and how to optimize the mind and body through time. He has a journalism degree from Humboldt State University in California.