Global Warming Likely to Get Cool Reception in Congress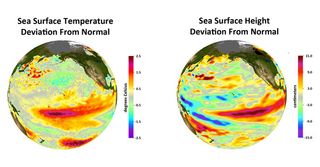 (Image credit: NASA/JPL-NOAA.)
As the right side of the U.S. capitol gets a little heavier following midterm elections, federal climate change legislation may be stuck in neutral.
Over 100 freshmen Republicans were elected to the 112th Congress. According to an investigation by ThinkProgress, a progressive blog, 50 percent of the GOP class of 2010 deny the existence of manmade climate change, and 86 percent are opposed to any climate change legislation that increases government revenue.
"With the possible exception of Tiger Woods, nothing has had a worse year than global warming," Todd Young, a new congressperson from Indiana, was widely quoted as saying earlier this year. "We have discovered that a good portion of the science used to justify 'climate change' was a hoax perpetrated by leftist ideologues with an agenda."
The election of Young and a new crop of Republicans who share these views may seem like a win for the GOP. They are predicted to dig into climate change and energy issues, but many climate scientists think that no new legislation would have passed in the first place.
"I don't see much happening," said John Christy, a climate scientist at the University of Alabama, Huntsville. "The previous Congress was heavily favored to pass something regarding climate change, but nothing happened."
Christy thinks the 112th Congress will shift the focus away from climate change and toward more fundamental energy issues, such as creating a pathway to expand nuclear power more efficiently and to expand natural gas in order to meet the growing energy demands of the nation.
"I doubt much on climate issues will be addressed or done — there is too much fatigue and suspicion with 'global warming' now," Christy told LiveScience.
Economics will most likely dominate Congress' next two years, and because energy is a huge economic issue, renewable energy won't generate much excitement due to high cost, Christy said.
"If it's not economically sustainable, it's not sustainable — so renewables will be a marginal topic," he said.
EPA and climate change
But energy won't be the only issue potentially on the table in the next legislative go-round.
In 2007, the Supreme Court upheld the U.S. Environmental Protection Agency's (EPA) authority to regulate greenhouse gas emissions.
That authority may be debated again in the new Congress. Sen. John Rockefeller (D-West Virginia) may push for a vote this month that would suspend EPA regulations for two years, according to Reuters. President Obama could veto the measure, however.
The push against the EPA, according to senior Republicans, will seek to portray the agency as abusing its authority and damaging the economy with needless government regulations, the Los Angeles Times reported.
Climategate returns
Based on sound bites from several newly elected members of Congress, many scientists are also concerned about a war against climate scientists, which would distract from healthy debate on science policy, they say.
"It is alarming to note how many of the new members of the House — especially the Tea Party — and including the new leader of the House, Boehner, who have evidently disavowed the science of global climate change," said Kevin Trenberth, a climatologist with the National Center for Atmospheric Research (NCAR) in Boulder, Colo.
Incumbent John Boehner (R-OH), currently minority leader of the House and expected to take over as Speaker of the House, has been a vocal climate denier.
"This does not bode well for energy- or climate-related legislation," Trenberth told LiveScience. "Nor does it bode well for us climate scientists, as two members of the House, who are likely to control committees, have declared — prior to the election — the intent to open up hearings on 'Climategate.'"
Climategate is the name attached to the scandal involving the Climatic Research Unit (CRU) at the University of East Anglia in Norwich, U.K., when, last November, more than 1,000 e-mails were illegally obtained from the university and posted on the Internet. Their contents sparked allegations of poor scientific practice at the CRU, though no evidence of scientific fraud has been found in the e-mails.
"That would be a very counter-productive, useless and wasteful activity that would create a side show and which fails completely to address the needed debate on what should be done about climate change."
Brett Israel is a staff writer for OurAmazingPlanet, a sister site to LiveScience.
Stay up to date on the latest science news by signing up for our Essentials newsletter.
Brett Israel was a staff writer for Live Science with a focus on environmental issues. He holds a bachelor's degree in biochemistry and molecular biology from The University of Georgia, a master's degree in journalism from New York University, and has studied doctorate-level biochemistry at Emory University.