What is a 'black moon'? Why May's new moon has an unusual name.
On Friday, May 19, a rare 'black moon' rises. Here's what that means, and what you can actually see.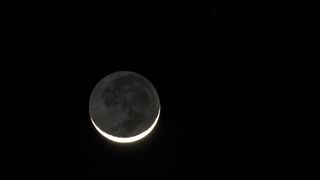 (Image credit: Getty)
On Friday, May 19, the year's only "black moon" will rise in the sky — and there will be precisely nothing to see. That's because Earth's natural satellite will drift right into the glare of the sun, signalling a new moon. So, why the mysterious name?
The term "black moon" has several meanings — none of them astronomical but all of which occur only once every few years.
The definition that best fits this month's event is a "seasonal black moon" — the third new moon in a season with four new moons. That's something that only happens every 33 months or so, according to Timeanddate.com.
Each astronomical season on Earth begins and ends with a solstice and an equinox. This current season, spring in the Northern Hemisphere and fall in the Southern Hemisphere, began with the vernal equinox on March 20, 2023. Crucially, that was also the date of a new moon. As a new moon occurs every 29.5 days — the time it takes for the moon to complete one orbit of Earth — there's plenty of time for three other new moons to occur before the summer solstice on June 21, 2023.
The new moon dates this season are: Tuesday, March 21; Thursday, April 20; Friday, May 19; and Sunday, June 18. That third new moon is this month's "black moon."
The term black moon is also used to describe other, separate lunar events. Just as a blue moon is the second full moon in the same calendar month — also made possible by the moon's 29.5-day orbit of Earth — the second new moon in the same calendar month is sometimes called a black moon. That can happen about every 32 months, according to Almanac.com.
Black moon can also be used to describe the rare occurrence of a month having either no new moon or no full moon, according to Timeanddate.com. That can only occur in February — the only month short enough to begin and end between two new moons or two full moons. That's something that happens once every five to 10 years, according to Almanac.com.
Although a black moon isn't something you can see because the part of the moon facing us is in shadow, it does mean the night skies are free of moonlight, making them perfect for stargazing. In the evenings after the new moon — on May 19, 20 and 21 — look to the west after sunset and you'll see a slender crescent moon emerging after 2023's only black moon.
Stay up to date on the latest science news by signing up for our Essentials newsletter.
Jamie Carter is a freelance journalist and regular Live Science contributor based in Cardiff, U.K. He is the author of A Stargazing Program For Beginners and lectures on astronomy and the natural world. Jamie regularly writes for Space.com, TechRadar.com, Forbes Science, BBC Wildlife magazine and Scientific American, and many others. He edits WhenIsTheNextEclipse.com.
The math is not right on any of the calculations that claim 29,5d

You can count the phase lenghts yourselves, those are always with extra 24hrs.

Here is example of the range May 19 to June 18:

May 19th
18:53

Day of new moon has 5hrs 7minutes inside May new moon range.

The rest of the days on may are 11 full 24hrs days (May has 31 days) inside this new moon range (or lunar phase)

June 18th
07:37

June has 17 full 24 hrs days inside this range still plus 7hrs 37minutes (the next New Moon predictation in June)

Those equals to 28 days and 13hrs 42 minutes. That is ruffly 28,5 days and NOT 29,5 as been told.

https://www.timeanddate.com/moon/phases/

Reply

The math is not right on any of the calculations that claim 29,5d

You can count the phase lenghts yourselves, those are always with extra 24hrs.

Here is example of the range May 19 to June 18:

May 19th
18:53

Day of new moon has 5hrs 7minutes inside May new moon range.

The rest of the days on may are 11 full 24hrs days (May has 31 days) inside this new moon range (or lunar phase)

June 18th
07:37

June has 17 full 24 hrs days inside this range still plus 7hrs 37minutes (the next New Moon predictation in June)

Those equals to 28 days and 13hrs 42 minutes. That is ruffly 28,5 days and NOT 29,5 as been told.

https://www.timeanddate.com/moon/phases/

Same applies to Spring Equinox (solar year) calculations as well, the March 20th (or in Leap years it falls on 19th), 79th day in Gregorian Year Cycle anyhow, and it is counted twice, giving the calculation additional 24hrs extra.

If one calculated strictly full days and the rest with ranges, the sum is always 364 days 5hrs and ~58 minutes.

There is never more than 363 days full inside the range, and the rest 29-30hrs that comes from both splits of 79th Spring Equinox days always make only 1 full day and ~5-6hrs.

Reply